Indiana recorded a season-high nine steals against Ball State in its 101-53 win on Sunday evening.
A look at three steals the Hoosiers quickly turned into scores — a large point of emphasis for a defense now ranked No. 6 in adjusted defensive efficiency according to KenPom — in the latest edition of Film Session.
I. Jauwan Scaife is guarded by Maurice Creek up top: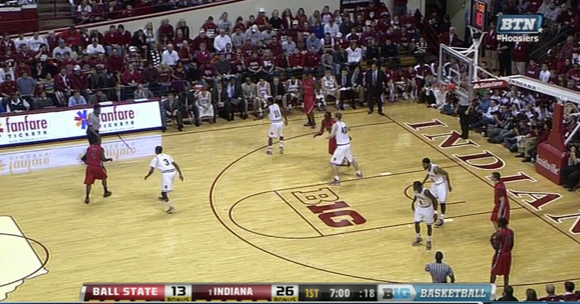 Majok Majok comes to set a ball screen for Scaife as Zeller hedges: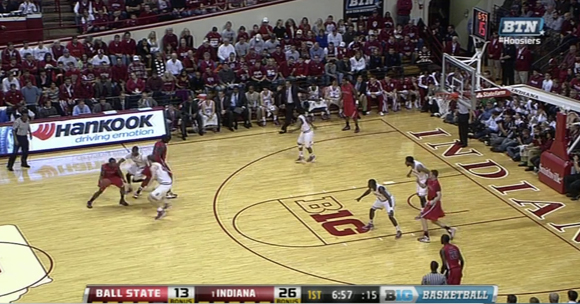 As Scaife looks to split the defenders, Zeller gets a hand in and pops the ball loose: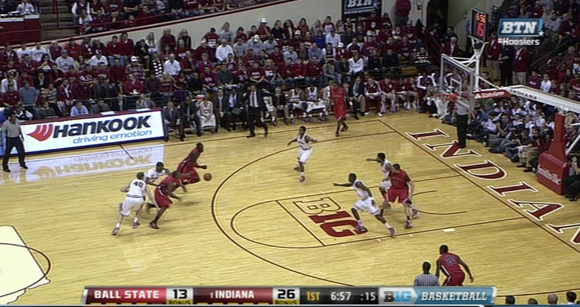 Christian Watford snatches it up, looks ahead and passes up to Zeller: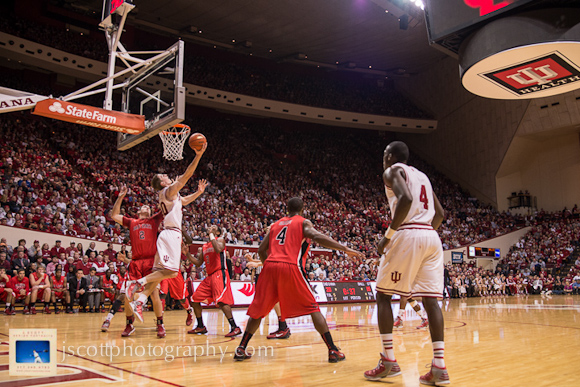 Check out 16 photos by Jamie Owens from Indiana's 101-53 win over Ball State at Assembly Hall in the embedded photo gallery after the jump. Purchase prints from J. Scott Sports.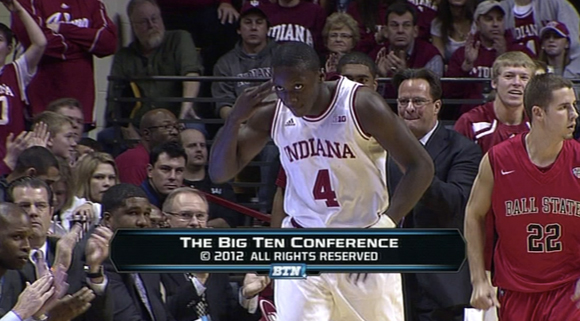 Thoughts on a 101-53 win over the Cardinals:
I. This game was knotted at 4-4 at the under-16 timeout, and it began as yet another slow start. But by the time the first half ended, the Hoosiers were up a ridiculous 50-19. Credit an offense that really started to get it going — scoring on several straight possessions and shooting 65% from the field. Credit a defense that held Ball State to two prolonged scoring droughts that totaled nearly 13 minutes.
Indiana's depth and talent just wore Ball State out on both ends of the floor tonight — a familiar refrain against non-conference opponents inside Assembly Hall this season. Once Indiana got rolling in the first half, it was pretty much curtains for the Cardinals.
Also: Qdoba!
II. Lots of Hoosiers got in the mix in this one. Will Sheehey, save for some And1 Mixtape dribbling that resulted in a turnover and drew the ire of Tom Crean, was just about perfect tonight — 8-of-9 from the field for 19 points to go along with six rebounds. Lots of mid-range goodness from No. 0. Cody Zeller was aggressive from the start, receiving the ball more out near the perimeter and using his quickness to get to the rim against Ball State's bigs. He scored 15 points in 20 minutes to go along with eight boards. Not quite sure if he's fully over his illness yet, but the energy he displayed bodes well for Tuesday's showdown with North Carolina.
Maurice Creek looked good in a spot-up shooting roll this evening; he hit two 3-pointers and totaled nine points for the game. Jordan Hulls did Jordan Hulls things (17 points on 7-of-10 shooting, three assists). Victor Oladipo continues to show confidence in his outside shot. The junior hit a jumper and a 3-pointer tonight en route to 13 points.
Christian Watford sported a double-double (11 points, 10 boards).
III. Despite the huge lead in the second half, Crean was his usual self in this one, continually telling his team to push the pace and not let up. He also had the Hoosiers practicing a full-court press in this one during a stretch after halftime as well — showing once again he'll use live game action to try out some different things in these games where Indiana is outclassing the competition.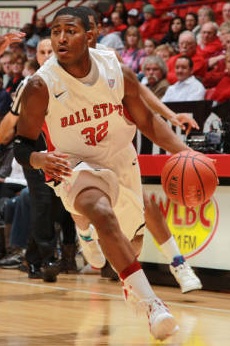 Following a successful trip to Brooklyn that included wins over Georgia and Georgetown to capture the 2012 Legends Classic, the No. 1 Hoosiers return to Assembly Hall on Sunday night for a meeting with Ball State. The Cardinals (2-1) will be playing their first true road game and are coming off a 78-58 loss to Indiana State.
The game will be televised by the Big Ten Network.
After a disappointing 15-15 season that included nine straight losses in Mid-American Conference games, Ball State athletics director Tom Collins decided to stick with coach Billy Taylor, who has a contract through the 2013-2014 season. It's fair to say that this is the make or break year for Taylor, who appears to be fighting an uphill battle from a personnel perspective.
PERSONNEL
Ball State graduated their leading scorer and rebounder — Jarrod Jones — and while two starters do return, the Cardinals are attempting to integrate six newcomers with six new pieces.
One name Indiana fans may be familiar with is junior guard Jesse Berry (pictured), who starred at Lafayette Jefferson and was once on the Big Ten recruiting radar. After originally signing with Dayton, Berry was released from his Letter of Intent after a couple of arrests and ultimately landed at Ball State. He was second in scoring a season ago and through three games, he's again second in scoring (12.0 ppg), but has a team-high 12 turnovers and could benefit from being more selective offensively.
The key newcomer on the roster is 6-foot-8 forward Majok Majok, a junior college transfer who is leading the Cardinals in scoring at 14.3 ppg and rebounding with 10.3 rpg early on. Majok has already attempted 28 free throws, but is shooting just a shade over 41 percent.
Senior guard Jawaun Scaife is the third Ball State player averaging in double figures, but is just 3-of-14 from the 3-point line. Zach Fields, a 6-foot-10 senior center, has been inserted into the starting lineup after playing sparingly his first three seasons. Chris Bond, a 6-foot-4 wing who won a state championship at Bowman Academy, started all 28 games he appeared in a season ago and is Ball State's best defender.
A TEMPO-FREE GLANCE
If there's a bright spot offensively for Ball State through three games, it's been their ability to get to the line. The sample size is certainly too small to draw any conclusion, but the Cardinals have taken 92 free throws thus far, which is good for a free throw rate of 61.7. It's hard to imagine that trend continuing Sunday night as the Hoosiers have limited opponent trips to the line through their first five wins to a total of 62.
Ball State's pace is very similar to Georgetown in that they wish to play at a below-Division I average possession count. Through three games, the Cardinals are averaging a 64.1 possessions per game pace, which falls close to where they were a season ago (63.2).
The Star Press: Ball State men's basketball to play IU
The Star Press learned through a Freedom of Information Act request that the Ball State men's basketball team will play at Indiana University on Nov. 25 in Assembly Hall.

The game time will be determined at a later date by the Big Ten Network.

Indiana will pay Ball State $85,000 in compensation within 60 days after the game.

Indiana athletic director Fred Glass signed the one-game contract on April 12. Former Ball State athletic director Tom Collins signed the contract on April 28. Bernard Hannon, the Ball State associate vice president, business affairs and assistant treasurer, finalized the contract with his signature on May 4.