A.J. Ratliff Archive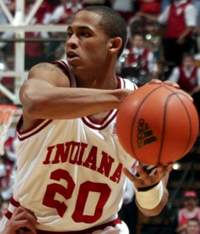 Update: A.J. Ratliff is off the IU team (Herald Times)
Note: Due to Ratliff's departure, some updates have been made (in bold and italics) from the original post I penned last night. Unfortunately, what I forecasted at that time has come true. A.J. Ratliff is no longer a Hoosier.
First, a preface: Prior to the season, if you had asked who my favorite Hoosier was, I would have told you A.J. Ratliff. His success last season led me to believe that he'd be a key piece to a deep NCAA Tournament run this season. I never really paid much attention to those who labeled him as inconsistent because I had faith he'd put it together at some point. In my head, "some point" was going to be this season.
Now I'm just wondering where Ratliff is. Is he attending practice? No. Is he going to play again? No. The last two games he's been MIA. The details of his absence are sketchy at best. All we really know is that he's dealing with a "family issue," according to Indiana coach Kelvin Sampson. And now, according to published reports by the Herald Times, we've learned that he's no longer on the Indiana team.
Oddly enough, he wasn't brought up on the Big Ten teleconference on Monday morning. It's shocking to me that nobody asked for an update on Ratliff. The updates provided after Sunday's game revealed little as Sampson wouldn't elaborate further on Ratliff's status. Is there an unwritten rule to not ask Kelvin Sampson any tough questions or pry for more information? Sometimes I feel like more information comes out of a Bill Belichick press conference.
Color me skeptical, but with each day that goes by without an update on what the deal is with Ratliff, the less likely he is to return. Color me correct, A.J. Ratliff is no longer a Hoosier.
Now that Ratliff's departure is confirmed, what are your thoughts on Ratliff's career at Indiana? Major disappointment? About what you expected? Thoughts in the comments, por favor.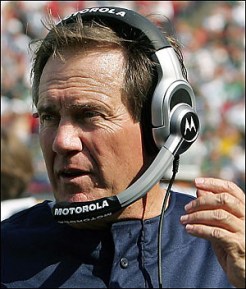 Notes written while basking in the defeat the smug jackass to the right took last night.
First off, forgive us ITH'ers. E is still recovering from Super Bowl Sunday. Apparently he was drinking cranberry juice yesterday in an attempt to recover from a particularly debaucherous Saturday. In other words, he was already spent by the game last night.
So this is where you come in: Thoughts from last night's game and discussion are welcome in the open thread version of "The Morning After."
If you need talking points for discussion, here are a few:
What did you think of Kyle Taber's surprise start? Should he continue to play?
A.J. Ratliff saw significant action. Did his play justify more?
Mike White didn't leave the bench. Did that make you happy, sad or indifferent?
Eric Gordon looked like Eric Gordon. And that was really nice to see.
Not that there was any doubt, but D.J. White is an absolute beast.
Also, if you want to express your joy about the Patriots choking away their chance at history, those thoughts are also welcome.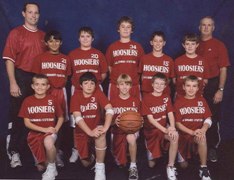 It took a while for the Hoosiers to pull away in this one — thanks to Northwestern's back cuts and three-point shooting — but with around eight minutes to go, Eric Gordon hit a few shots, D.J. White chipped in some free throws and that was that: 75-63, IU wins. For the afternoon Gordon had 29 points — 18 of which came on three-point baskets. White racked up his fourteenth double-double with 26 points and 13 boards. Craig Moore led the Wildcats with 17 points.
It also helped that IU went to a zone in the second half, negating some of Northwestern's nifty screening and cutting. At one point, Northwestern didn't notch a field goal for just about eight minutes. Kyle Taber got the start at the four for the Hoosiers and saw some considerable playing time. (Clearly, Kelvin Sampson — like many of us — is realizing the Mike White/DeAndre Thomas/Lance Stemler combo has been lackluster as of late.)
Though Taber saw considerable playing time, he was just sort of, well, there. He didn't do anything particularly notable. He didn't do anything particularly awful, either. (Although, I do remember an errant pass for a turnover in the second half.) It was nice to see Sampson try something else there, even if it wasn't quite the answer. Taber does have size and if he can play some defense — which he seemed somewhat capable of today — it might be another serviceable option for IU as the season progresses.
Our guy A.J. Ratliff saw the floor for a good stretch this afternoon as well, but it's clear his shot just isn't there yet this season. He attempted six threes and only hit one.
Oh and since we've all been rather critical of Sampson, his offensive schemes and the way this team has played this year, I highly recommend you read Chris Korman's article from today. Sampson responded to a lot of that criticism yesterday. (One thing I'll say: Sampson was able to maximize the talent on last year's squad: they played well together. Why he hasn't been able to do that for this year's team, well, I don't know. But we're eight game deep in the Big Ten season, he better figure it out soon.)
The Hoosiers are now 18-3 on the season and 7-1 in the Big Ten. They play Illinois on Thursday night in Champaign, Ill.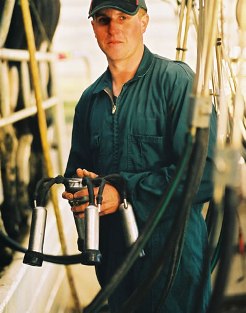 E was good and worked up tonight, so technically, this is the minute after. You get the point.
After UConn essentially dismantled IU last Saturday, there were two overriding points of view. The first was to assume that IU played poorly, met an athletic team that neutralized its strengths, and suffered a weird blip on the schedule that ended up in a loss. If anything, the loss was a positive; surely the Hoosiers would bounce back even more focused, right?
The second point of view was the sinking feeling of despair that maybe, just maybe, the Hoosiers weren't nearly as good as most of us have given them credit for. That maybe the schedule is that bad; that maybe IU couldn't stand up when the competition fought back; that maybe the Hoosiers aren't destined to play late into March like most of us dreamed they would since Eric Gordon put his pen to paper.
Last night, we found out which of these approaches is more accurate. And it definitely isn't the first.
— First, the injury. For all of the Belichickian skulduggery by IU's media relations department — and the curious way EJ's father dodged telling Erin Andrews exactly what the injury was — it's pretty obvious that the left wrist is in bad shape. A typical bump or bruise doesn't require a bandage. To think that the bandage will be on for "a few weeks", but that there's no swelling or a break or anything wrong, nope, nothing to see here, move along … well, that's just silly.
And it deeply affects the Hoosiers. All year this team has struggled to play a cohesive offensive scheme. Instead, it's relied on D.J.'s efficiency in the post, Gordon's creativity from the perimeter, and fill-in-the-blanks stuff from a constant rotation of bit players (some more effective than others). With Gordon's left wrist clearly limiting some of the things he can do — like, say, move to his left — IU loses a vital piece in the one-on-one scheme it's been thriving in against lesser opponents.
Almost two months ago, I wrote about A.J. Ratliff's return and what it would mean for the Hoosiers rotation. Here's a brief excerpt from that post to refresh your memory:
The Hoosiers don't need Ratliff for his offense. They need his senior leadership and his tenacity on defense. Two seasons ago, he held Adam Morrison to 5 of 17 shooting in IU's second round NCAA Tournament loss to Gonzaga.

Ratliff's addition will allow Eric Gordon to share the defensive duties on the opposition's best player. While Kelvin Sampson doesn't expect Ratliff to start, he has said that Ratliff has been playing extremely well in practice and should fit right into the rotation.
Since that time, Ratliff regained his eligibility by earning a 3.0+ grade point average the first semester, injured his right ankle in practice and battled a 101-degree temperature that limited his minutes in the Minnesota game.
His contributions on the court have been, for the most part, non-existent. During Saturday's 68-63 loss to Connecticut, Ratliff played five minutes and his body language suggested that something just wasn't right. In total, he's averaging 11.3 minutes and 1.7 points per game.
So that begs the question: What happened to A.J. Ratliff?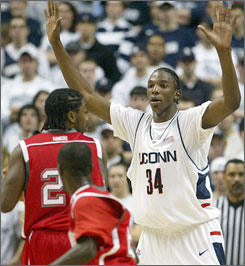 A couple of notes today from IU Media Relations:
BLOOMINGTON, Ind. – On Saturday, Jan. 26, against non-conference foe Connecticut, the Indiana men's basketball team will welcome its second and final "White Out" this season. All fans are encouraged to wear white to the game, which will be televised by CBS at 1 p.m. EST.
Also, Coach Kelvin Sampson addressed the media to talk about the UConn game, A.J. Ratliff and more:
On what to expect from Connecticut:

"Speed, rebounding. Their size, obviously, with (Hasheem) Thabeet inside. They're just a much more mature team than when we played them last year. They've grown up and (A.J.) Price is what Jim (Calhoun) thought he'd be. He's really good. Price, (Jerome) Dyson, those two guards have great quickness. They play in great bursts. Thabeet I think has improved in every area. He's 70-for-100 free throws. I think that is significant. I don't have his stats from last year right in front of me, but I know that is just an example of how he's improved. He's more comfortable. I think he see himself as a great low post player now. Whether he has the ball or not he controls the lane defensively. (Jeff) Adrien is just a tough kid. He's a warrior. And they are playing good now. I think early in the year…we all are what we are early in the year. The win over Marquette and they went in a won a great road game last night where just about everybody struggles is at Cincinnati. They will come in here with a lot of confidence."

On the play of A.J. Ratliff:

"I think with A.J. it is just finding his niche. Missing all the games he did, he's behind when he started. We're not playing games where I have the luxury of giving him 10-20 minutes so he can get his confidence back. These are games that when you get in the conference season or you are playing against a great nonconference opponent like Connecticut, my emphasis is to put in the kids I've got that I think we can win with."
A full transcript is available here.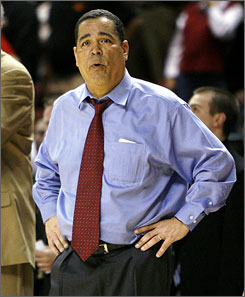 Indiana coach Kelvin Sampson addressed the media earlier today and gave us an update on Eric Gordon's injury, Armon Bassett's suspension, A.J. Ratliff's return and an injury to Eli Holman. Here are some highlights of Sampson's comments. The full transcript of the press conference is available here.
On the status of Eric Gordon:
"Eric has been good in practice this week. I fully expect him to play. He had not done anything to break a sweat since Monday night (vs. Tennessee State). I don't think he went full court Tuesday; yesterday he went full court pretty good. It is just a matter of time. There were no broken bones. It was more discomfort and a really, really deep contusion. I think the more muscular you are, the more those hurt you."
On the overall team effort in practice this week:
"Jordan, Jamarcus, all our guys, everybody has been practicing well. It will be interesting to see how we practice today and tomorrow because we have not worked on Western Carolina at all. But we will today. Coach Meyer has the scouting report. We will go over that today and break them down and see if we can't play better Saturday."
On the status of Eli Holman:
"I can tell you that he hurt his wrist. I don't know (how bad the injury is). I know he went to get it x-rayed and it was not broken. But there may be some ligament damage in there. It is in a brace. We went early yesterday, I think it was 12:30, and it was toward the end. I worked him out individually before practice started for about 45 minutes, just he and I. And he had a really good practice. I didn't see the play. I know that after practice Tim (Garl) took him to the hospital and then Tim text me after to say it is not broken but thought he had some ligament damage. We just have to wait and see how serious it is."
On the suspension of Armon Bassett:
"Game to game. We'll see. He had got some work to do. He won't play Saturday and we will just have to wait to see about the following Saturday."
On whether or not A.J. Ratliff will play on Saturday:
"Depends on if he gets his classes in. He has a lot of stuff that has to be in. The academic part of it, through the NCAA and forces that be up on campus with the registrar and get all his grades recorded, we just have to wait on that. You know, I talked to our academic people a long time this morning. I would be the wrong guy to try and explain that."