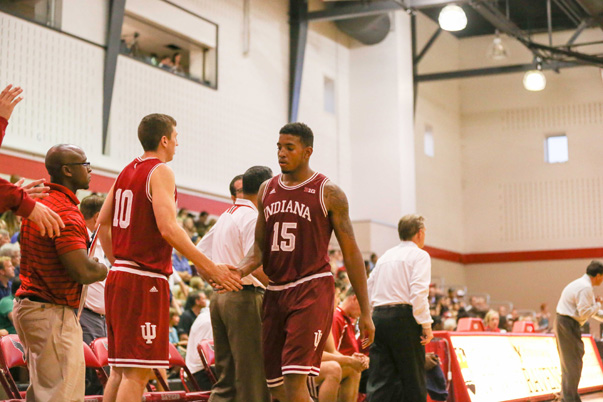 Welcome to "Montreal rewind," our player-by-player recap from Indiana's five-game tour of Canada. Today: Devin Davis. Previously: Nick Zeisloft.
With the departure of Noah Vonleh to the NBA, Indiana lost arguably the best defensive rebounder in the Big Ten. At times, Vonleh could control the defensive boards on his own, but without him, much is going to be asked of both IU's guards and frontcourt players this season when it comes to hitting the glass.
One of the guys who IU hopes can step up to fill some of the void is Devin Davis, who is expected to have a significant role in IU's frontcourt as he enters his sophomore season. IU's trip to Montreal gave us a first glimpse at the offseason progress made by the Indianapolis native.
He appears to have put on close to 10 pounds of muscle since last season and in five games in Canada, Davis put up solid numbers: 8 points (77.8 FG%), 7.6 rebounds, 1.4 turnovers, 1.2 assists, 0.6 blocks, 0.6 steals in 21.4 minutes per game.
"Coach Crean talks to me about being consistent and going to the glass every time," Davis explained after IU's win over UQAM to close out the trip. "So I try to go every time and if the ball bounces my way, I do my best to come up with it."