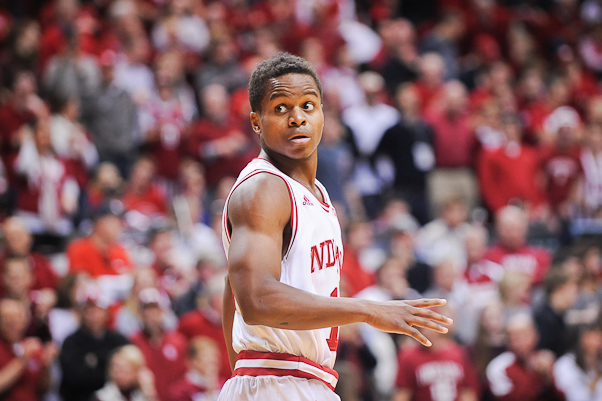 With the official start of practice less than three weeks away, UM Hoops and Inside the Hall have again partnered to bring you a preseason breakdown of the top 25 players in the Big Ten for the 2014-2015 season.
Our selection process involved much deliberation to arrive at a list we hope will provide plenty of reaction and debate. The series will be broken into five parts and our fifth and final installment of players 5-1 is available below: (Previously: 25-21, 20-16, 15-11, 10-6)
5. Yogi Ferrell, Indiana (6-foot, guard, junior)
33.8 mpg, 17.3 ppg, 3.9 apg, 3 rpg, .8 spg, 52.1 eFG percentage
As a sophomore, Ferrell made a leap from bring primarily a distributor to one of the league's top scorers. The Hoosiers put the ball in the Indianapolis native's hands often and he accounted for half of the team's made 3-pointers on the season with 88. He was also reasonably efficient from distance as he managed to knock down 40 percent of his attempts from behind the arc. Ferrell ranked seventh in the conference in assist rate (25.6 percent) and while his turnover rate (18 percent) was improved, it was still too high as Indiana finished as the Big Ten's worst turnover team. Going into his junior season, Ferrell's workload may decrease a bit as the Hoosiers have added several key backcourt pieces, including James Blackmon Jr., which should allow him to score more efficiently and also distribute the ball more.
4. Sam Dekker, Wisconsin (6-foot-9, forward, junior)
29.8 mpg, 12.4 ppg, 6.1 rpg, 1.4 apg, .8 spg, .6 bpg, 52.8 eFG percentage
Dekker entered his sophomore season with high expectations and while his efficiency dipped a bit from his freshman season, he was a big reason why the Badgers went to their first Final Four under Bo Ryan. Listed at 6-foot-7 during his first two seasons in Madison, Dekker has now reportedly sprouted up a few inches to 6-foot-9 and has the perfect skillset to play the four. He made 55 percent of his 2s, stepped out and hit the 3-pointer when it was available and also was Wisconsin's second best defensive rebounder behind Frank Kaminsky. He also very rarely turned it over (10.2 turnover percent), which is fourth best among returning players in the league. Two key areas for of improvement Dekker as a junior are his free throw shooting (68.6 percent) and 3-point shooting percentage (32.6), which, if he improves upon both, could catapult him higher up this list by season's end.