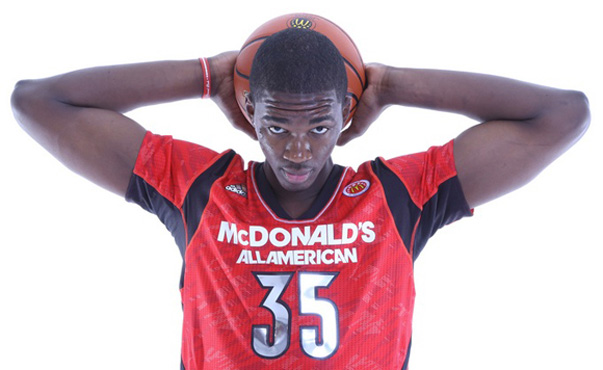 When Noah Vonleh, all of 17 years, two months and 20 days old, signed his letter of intent to play for Tom Crean and the Hoosiers on Nov. 14, 2012, a visit to Bloomington the previous weekend sealed the deal.
"Cody Zeller, he was doing a lot of the guard drills," Vonleh said at the time. "I want to do something similar like that. That just really stood out to me."
Three months earlier at the adidas Nations championship game, a sixteen-year-old Vonleh was doing plenty of guard work on the court for USA Red 2014, but with mixed results:
It wasn't until late in the game, when Vonleh stopped trying to dribble penetrate and went to the block for scores and rebounds, that he was able to force overtime, impose his will and bring his team a victory. He finished the game with 25 points and 16 rebounds.
This is the modern thought of talented teenagers at 6-8 or above with wingspans and size that once deemed them to the paint; they see Kevin Durant shining in the NBA, the positional revolution churning, and who can blame them for thinking: "I can do that … I want to do that, too?"