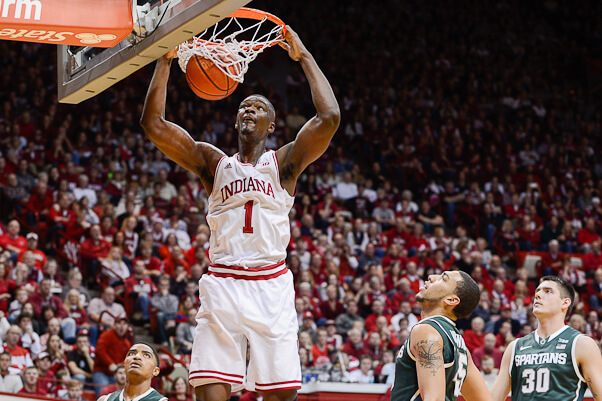 Welcome to "That's A Wrap," our player-by-player recap of the 2013-2014 Indiana Hoosiers. Today: Noah Vonleh.
Vonleh (30 games): 11.3 points, 9.0 rebounds, 1.4 blocks, 0.6 assists, 52.3% FG, 71.6% FT in 26.5 minutes per game.
Noah Vonleh arrived in Bloomington on May 29 weighing just over 220 pounds. By the time July arrived, he had put on over 20 pounds of muscle as the transformation of his body under the guidance of IU's strength and condition program took hold.
"I wasn't used to that at prep school, so that was a big adjustment," Vonleh told the media in his first comments after arriving on campus. "I put on a lot of weight and am getting stronger."
After just a few weeks at IU, assistant coach and recruiting coordinator Kenny Johnson said Vonleh would put a cot in Cook Hall if he could, an indication of the work ethic he possessed at just 18 years of age.
The 2013-2014 season tipped off with high hopes for Vonleh and rightfully so. He arrived in Bloomington as the highest rated recruit of the Tom Crean era and at 6-foot-10 with a ridiculous 7-foot-4 wingspan, the Massachusetts native appeared ready to contribute right away.
And that's exactly what he did.