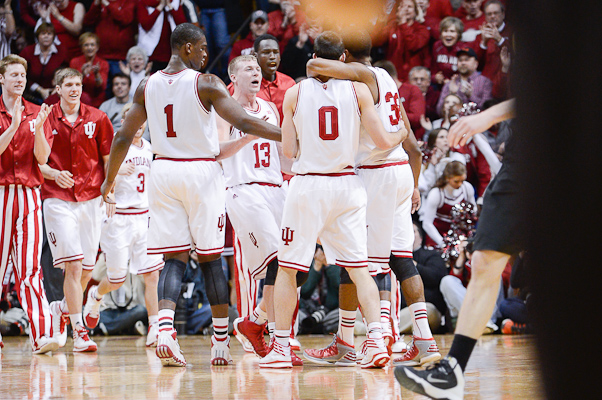 Indiana's up-and-down season continued on Thursday night as the Hoosiers knocked off another ranked opponent at Assembly Hall. The latest victim was No. 20 Iowa, which jumped out to an early lead but couldn't stop IU thereafter in a 93-86 loss.
Here's a look at five takeaways from the win over the Hawkeyes:
· Sheehey shines in career night: It's not fair to call this Sheehey's best overall game ever at Indiana (he told us so himself in the postgame press conference), but offensively, it clearly was. The senior has taken his fair share of criticism this season as he's navigated a major shift in his role, but last night, Sheehey played with extreme confidence. He moved away from the ball and beat the defense down the court repeatedly, which resulted in a ton of easy looks.
He finished with 30 points, eight more than his previous career-high and hit 11 of his 13 2s. More importantly, on a night where Yogi Ferrell and Noah Vonleh didn't contribute a ton offensively, Sheehey morphed into the go-to-guy, even if it was for one night only. Afterward, rather than talking much about himself, he gave his teammates the credit.
"I think Yogi threw two or three over-the-top passes, Stan (Robinson) finds me on back cuts all the time," he said. "I mean, really I was scoring without the ball in my hands and these guys found me. So a night like this really just shows the kind of teammates we have."
· Bench comes up big: Indiana hasn't received consistent production from its bench for most of the season, but the Hoosiers had 42 bench points against the Hawkeyes from five different players.