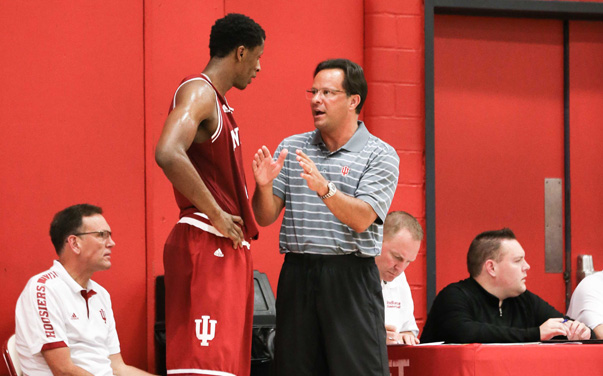 With the start of college basketball season on the horizon, we're taking a long look at the conference at large as well as Indiana's roster this month. Today, we continue our look at Indiana's roster with Troy Williams.
If the Hoosiers are to make a return trip to the NCAA tournament, a sophomore leap from Troy Williams could go a long way in making it a reality.
Coming into Tom Crean's program last summer from Oak Hill Academy, Williams' athleticism and love of the home run play were never in doubt. But as the 2013-2014 season went along, the Virginia product suffered from a prolonged case of freshman-itis. He tried to do too much and was often too fast with the ball in his hands (24.8 turnover percentage). While his 2-point field goal percentage led the team (56.9 percent) thanks to a nice ability to score at the rim, his free throw shooting (67.6 percent) and 3-point shooting (20.7 percent) suffered. Williams missed assignments on defense and lacked awareness at times on both sides of the ball.
The good news?
Crean has proven if a young, raw player puts in the time and commitment to his program, he'll get better. And on the Canada trip, Williams indeed appears to be sporting an improved all-around game.
He stuffed the statsheet during the five-game tour (18.4 points, 6.4 rebounds, 2.6 assists, 1.2 blocks and 1.2 steals in 27.8 minutes per game) and revealed a left-hand injury that prevented him from using both hands during last season is a thing of the past. While Williams' shot so far appears improved, his greatest chance at success on offense may be attacking off the dribble and scoring off the baseline. And an improved cast of shooters around him may give him more space to do so. Improved decision-making as he breaks down the defense should lead to a) less turnovers and b) a higher assist rate.