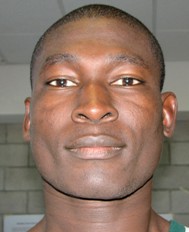 Believe it or not, we actually get some emails here at ITH from time to time. Normally, they fall into two categories: 1) Here is a link to an article I would post if I was an editor. I think you should post it. NOW! 2) Can you please break down said player and give me some more information like his stats and whether or not he'll play right away when he gets to Bloomington. Also, a link to his Facebook page would be good, too.
This afternoon, I'm going to address número dos. The subject: Bawa Muniru. Here is a sampling of the questions you've submitted, either via email or by your comments followed by my responses.
What is the deal with Bawa? I have not seen any video or stats.
The deal with Bawa is that he's a 7-footer with tremendous upside, but at this point, he's extremely limited offensively. He's not Tijan Jobe limited, but he's got some work to do and with the help of Roshown McLeod, I'd expect him to improve immensely in that aspect of his game. As far as video goes, this clip, which basically shows him throwing down a couple of thunderous dunks is all I've been able to scrounge up. The reason his stats haven't been reported is that very few, if any, newspapers cover Mt. Zion Academy's basketball team and the school's Web site doesn't report stats.