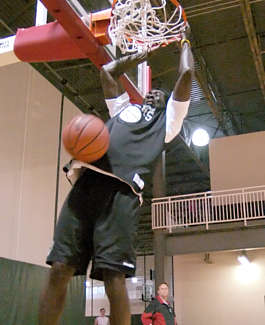 Hoosier Hysteria is on the horizon and it's time for Inside the Hall's player-by-player breakdown of the 2009-2010 Indiana Hoosiers. Today: Tijan Jobe.
I don't feel confident about much in my life. I'm wrong about a lot, and even the stuff I get right leaves room for doubt. But if there is something I feel wholly confident stating, it is that — and I say this without the slightest hint of exaggeration — the Hoosiers' most important player in 2009-10 will be Tijan Jobe.
Of course, this should come as no surprise to any faithful Indiana basketball fan. If you paid attention last year, you saw the seeds of what should turn out to be a legendary IU basketball career begin to sprout. Jobe is a dominant big man, a versatile force on the inside, a veritable monster from end to end. Some players, if they're big and strong enough, earn the nickname "Baby Shaq." Little known fact: When Shaq first started playing basketball, they called him "Baby Tijan."
Perhaps the highlight of the 2008-09 season was watching Jobe enter games at crucial moments and simply take over. Few players have that quality, but Tijan is one of them. It was a shame Jobe didn't play more minutes last year, but one can understand why: Tom Crean clearly made the strategic decision to keep Tijan on the bench in an attempt — futile though it may have been — to keep Jobe's profile low. In 2009-10, the Big Ten better look out. No such mercy will be granted. Jobe will be freed. And it will be spectacular.