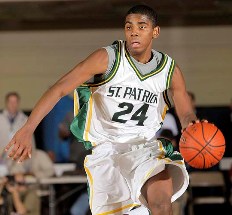 The surprise commitment of David Williams has left many Indiana fans trying to figure out the recruiting plan for the 2010 class. A quick glance at our scholarship numbers page shows two available spots for the 2010 class. (Three if IU wishes to oversign by one.) There's a camp that believes that IU could hold a couple of spots for the loaded 2011 class and there are those who believe the Hoosiers will fill the two remaining spots.
Here's a look at the names IU is recruiting for 2010:
– Kyrie Irving – Irving tops the wishlist for Indiana and several other schools because he is a versatile point guard who has the ability to make others around him better. He prominently mentions IU when speaking about his recruitment and has developed a strong relationship with Tom Crean and Roshown McLeod. Scout.com recently moved him into the top 10 of the 2010 class. IU fans will likely have a chance to see Irving in a couple of weeks as his New Jersey Roadrunners team is expected at the Adidas May Classic. Consider him the top priority in Indiana's recruiting efforts.
– Moses Morgan – Michigan was reportedly the school to beat for Morgan until IU made a recent push for the Las Vegas guard and now the Hoosiers could be in the driver's seat. The son of Anderson-Madison Heights product and former IU player Winston Morgan is among the top 75 players in 2010 according to Rivals.com. Jerry Meyer recently called Morgan "a physical wing prospect with a game ready for the rigors of college basketball." Morgan plans to visit Bloomington in June.