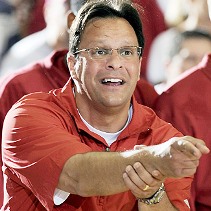 With the uncertainty of the scholarship situation going forward, it was only a matter of time until the questions started on the availability of grants for future recruiting classes.
In Wednesday afternoon's press conference, Tom Crean was asked about IU's recruiting efforts by Herald-Times beat writer Chris Korman. Here's a transcript:
Korman: You obviously don't have too many scholarships for the next couple classes, but there seems to be a fair amount of offers out there. How do you manage those?
Crean: We just do. We're constantly recruiting. We're constantly recruiting.
Korman: If you have a kid, is there pressure on them if they're a 2011 kid and they know, some of them we've talked to they say, 'IU doesn't have any scholarships.'
Crean: Are they saying that or are you saying that?