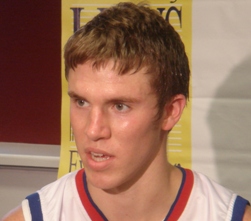 Hoosier Hysteria is on the horizon and it's time for Inside the Hall's player-by-player breakdown of the 2009-2010 Indiana Hoosiers. Today: Jordan Hulls.
Indiana's point guard play a season ago was, for the most part, a disaster. A quick scan of Ken Pomeroy's rankings shows the Hoosiers ranked 342 out of 344 DI teams in turnover percentage.
Turnover percentage, for those of you unfamiliar with it in Pomeroy terms, is simply the number of turnovers a team commits divided by its number of possessions. Indiana's number was 26.4%. Only Arkansas Pine Bluff and the NJ Institute of Technology were worse. Yikes.
And while he will likely begin the season as the backup to junior transfer Jeremiah Rivers, the arrival of Jordan Hulls to the backcourt should help bring relief to IU's turnover problem. At first glance, nothing about Hulls screams Big Ten caliber point guard. Perhaps that's why he was regarded as a mid-major prospect before emerging onto the national scene in the spring of 2008.