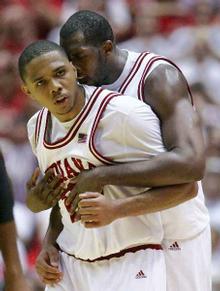 Judging by the comments in our game thread last night, this was not a game most of you were stressing. That makes sense: It's a late-season Big Ten game against Minnesota, the conference is now fully out of reach, and it comes after a lackadaisical 30 point drubbing at the hands of Michigan State. Not to mention the Coaching Situation of Which We Do Not Speak.
Moreover, those of us watching at home got to feel the pangs of senior night, but it's not like this is the last time we get to see D.J. White suit up. There's Penn State on Saturday, then the Big Ten Tournament, then the NCAA's, then, if you really want to get devoted, you can become a fan of whatever NBA team takes White in the late first round. (And Eric Gordon in the lottery.) So no matter which way you slice the thing, last night's game was a little boring. It was emotional without being heartbreaking, important without being dire, and interesting without being enthralling. It was IU-Minnesota on
March 5. Apathy ruled the day.
– Of course, it didn't help that the Hoosiers were so sluggish for the first 30 minutes of the game. If we were nonplussed, what were they? D.J.'s three aside – at least he got that under his belt as a Hoosier – was there a single exciting moment in the first half?
Part of that is the situation: March 5 vs. Minnesota. But part of that seems worrisome. Since Dan Dakich took over as head coach, he's done the following:
Barely beaten then-0-13 Northwestern in a defensively horrid performance.
Barely beaten a bubble-scrounging Ohio State team at home; again, not a great defensive performance.
Gotten absolutely blasted out of the gym against one-time offensive force of nature (1.5 PPP!) Michigan State.
Played sluggish, ugly basketball at home against the 8-8 Minnesota Gophers and Tubby "How long do I have to be mediocre before people stop calling me great?" Smith.
In each of the above games, the defense regressed while the offense has improved. If I remember correctly, Dakich claimed at the beginning of his tenure that he planned to keep the offense in place, but that he would tinker with the defense. Maybe four games is too small a sample size to judge, but note to Senor Dakich: STOP TINKERING.