+ Former Indiana interim and assistant coach Dan Dakich discussed the Gary Harris recruitment during a couple of segments of his radio show on 1070 the Fan this afternoon. While Dakich initially said he wasn't ready to make a prediction on Harris' destination just yet, he later added that Harris would "probably" pick Indiana. The reason? Indiana is making it difficult for kids to say no. Dakich cited Indiana's recent success on the recruiting trail as a big reason that it could be tough for Harris and his family to say no to the Hoosiers.
+ ESPN announced networks and times for the 13th annual Big Ten/ACC Challenge. Indiana at NC State will tip at 7:15 p.m. (ET) on Wednesday, Nov. 30 on ESPN2.
+ The NCAA Division I Leadership Council has come to a consensus on five potential recruiting rules changes according to this release. Eamonn Brennan has a solid breakdown on what the changes could mean over at ESPN, but here's a quick look at the five changes according to the NCAA's release:
A start date for official visits beginning after the men's basketball championship in April of the junior year.
Deregulating the type of communication between coaches and prospects (including text messaging and other forms of electronic communication).
Allowing unlimited communication after Aug. 1 before the junior year in high school.
Permitting evaluations at certified nonscholastic events on two weekends in April, with some restrictions.
Permitting some contact at a prospect's educational institution in conjunction with an evaluation, with some restrictions and requirements.
+ Jarred Reuter, who picked up an offer from Indiana earlier this summer, will transfer and is re-classifying to 2015 according to his father, Rob.
+ If you missed it, Luke Winn of SI.com took an in-depth look at the transfer behaviors of top 100 recruits and how it relates to de-commitments. The interesting conclusion: "A player who attended multiple high schools was almost twice as likely to decommit from a college than was a single-HS recruit."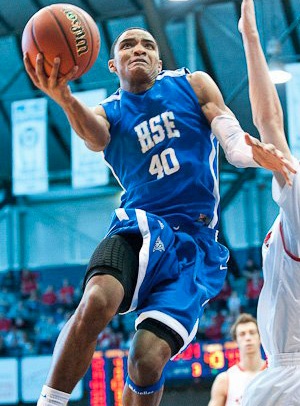 The USA Midwest team, featuring 2012 IU recruiting target Gary Harris, beat Canada 99-94 last night in Hillsboro, Oregon to win the Nike Global Challenge.
Harris finished with nine points, two steals and a rebound in 11 minutes off the bench in the championship game. He rolled his ankle driving to the basket late in the third quarter and did not return.
In three games at the event, Harris averaged 11.6 points, 4.3 rebounds, and 2.0 steals in 16.3 minutes per game. He shot 15-of-29 from the field for 51.7 percent.
The Global Challenge is the final event in Nike's series of Skills Academies.
The five-star guard from Hamilton Southeastern also participated in the Kevin Durant Skills Academy in Chicago and the LeBron James Skills Academy in Akron, Ohio, earlier this summer.
2012 Brewster Academy big man Mitch McGary was also on the USA Midwest roster, but was unable to play in the event due to a severe ankle sprain.
For more coverage from the Global Challenge, check out OregonLive.com.
(Photo credit: Jamie Owens of J. Scott Sports)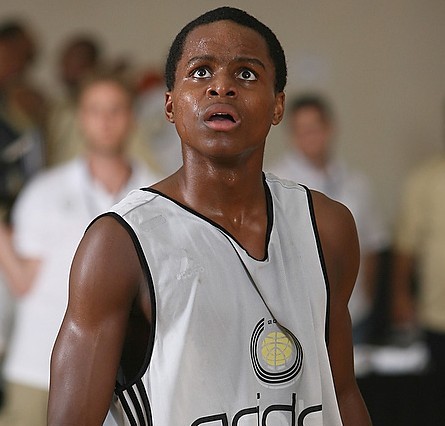 Indiana fans will have the opportunity to watch three of the Hoosiers' verbal commitments — Kevin "Yogi" Ferrell, Jeremy Hollowell and Trey Lyles — play on national television Monday evening.
The championships of adidas Nations will be broadcast live by CBS Sports Network beginning at 7 p.m. ET.
Ferrell's 2012 USA Red Team will meet Lyles' 2013 USA Blue Team in the third place game to open the national broadcast and Hollowell's 2012 USA Blue Team will play the USA 2013 Red Team for the adidas Nations Championship.
You can find the channel in your area at this link.
For fans in the Los Angeles area, both games will be played at Cal State Dominguez Hills. General admission tickets will be available for $10 at the door.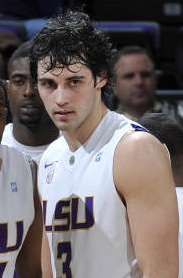 Garrett Green is headed to San Diego State for his final season of college basketball.
Edward Lewis from the San Diego State Rivals affiliate, AztecSportsReport, was the first to report the news and Green confirmed his decision with Inside the Hall on Saturday evening.
"This decision was so hard," Green said. "It was so hard on me. But I had to base everything off of grad school. That's the reason why I left (LSU) was for my education."
Green, who graduated from LSU on Friday, chose San Diego State over Indiana, Long Beach State and Wichita State.
The 6-foot-11 center averaged 6.3 points and 5.1 rebounds in 18 minutes per game last year for the Tigers.
Green said his visit to Bloomington on July 22 and 23 was almost enough to sway him towards the Hoosiers.
"Coach (Tom) Crean absolutely blew me away," he said. "I think he's an amazing coach. He's a really, really good guy. When I came down there on my visit, he was helping me out so much. I couldn't ask for more."
Green will join a San Diego State program that finished 34-3 a season ago but will be tasked with replacing four starters, including the No. 15 pick in the 2011 NBA Draft, Kawhi Leonard.
While the Hoosiers finished as his runner-up, the California native had nothing but positive remarks for the IU program.
"I still believe in Indiana. I know how bad they want it," he said. "From playing pick up and talking with them, just talking basketball, they all want it."
Related:
— Garrett Green commits to San Diego State (Hoosier Scoop)
— SDSU basketball lands 6-11 LSU transfer (San Diego Union-Tribune)
— Garrett Green takes final visit to Wichita State (August 3, 2011)
— The latest on LSU transfer Garrett Green (July 28, 2011)
— Q & A: Garrett Green talks about Indiana visit (July 23, 2011)
— A look at Garrett Green's potential impact at Indiana (July 22, 2011)
— LSU transfer Garrett Green will visit Indiana (July 19, 2011)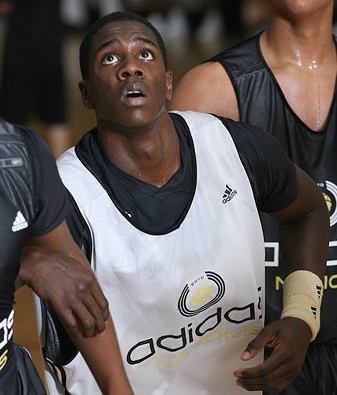 A pair of Indiana commitments — Hanner Perea and Trey Lyles — had successful outings at adidas Nations on Friday in Harbor City, California, while IU's top 2012 recruiting target, Gary Harris, shined in the Nike Global Challenge in Hillsboro, Oregon. Some notes from day one at each event below:
ADIDAS NATIONS
All Friday morning contests at adidas Nations were exhibitions and Lyles' USA Blue 2013 team got the better of Perea's Latin America group, 84-72. According to Michael Barnett, Lyles finished with 14 points and nine rebounds while Perea had 23 points and 12 rebounds.
The teams met again Friday night in their first pool play game and the USA Blue 2013 team prevailed again, 87-85. Lyles finished with four points and three rebounds and Perea had 16 points and six rebounds.
2012 commitments Kevin "Yogi" Ferrell and Jeremy Hollowell, who was a late addition to the event, are expected to participate beginning today. The CBS Sports Network will broadcast an adidas Nations highlight show at noon (ET) on Sunday and will also show the championship game live at 7 p.m. (ET) on Monday.
The adidas Nations schedule is available here.
NIKE GLOBAL CHALLENGE
Harris' USA Midwest team cruised to an easy 103-58 win over Germany and the five-star guard led all scorers with 17 points in just 19 minutes. Harris was 7-of-12 from the field, 3-of-5 from the free throw line and also had nine rebounds, three steals and an assist.
The Global Challenge continues today for Harris as the USA Midwest team will meet the USA West team at 8 PM local time at Liberty High School. USA West, led by 18 points from five-star 2013 power forward Aaron Gordon, beat Puerto Rico 105-74 on Friday.
The Nike Global Challenge schedule is available here.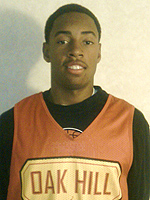 Update: Following his visit, Curington offered the following comment via his Twitter account: " I absolutely enjoyed my visit! It was a great experience. The coaches & IU fans are great & very supportive."
—
The Indiana coaching staff will welcome R.J. Curington to campus for an unofficial visit on Friday morning and the 2013 Oak Hill Academy guard says he's ready for some Hoosier Hysteria.
"When I was younger I went to camp (at IU)," Curington told Inside the Hall. "But I didn't really get to see many of the finer things. I'm expecting to see a lot of the basketball monuments, the practice facility and I'm looking forward to seeing the players also to see how they live on campus."
Curington lists Dyer, Indiana as his hometown, but didn't move to the Hoosier state until he was 10 and enrolled at Oak Hill as an eighth grader. The Mouth of Wilson based boarding school has produced 22 NBA Draft picks.
The adjustment living away from family was initially difficult, but is helping to prepare him for the next level.
"Since it's like a college (at Oak Hill) and with all of the traveling, we'll be somewhere one day and the next day we'll be somewhere else," Curington said. "You've gotta get your homework done and that's how it is in college. I'm just thankful I have the chance to get that early so when I'm in college, I'm not foreign to what I have to do."
The month of July was a successful one for Curington as his C.I.A. Bounce team won the AAU Super Showcase in Kissimmee, Florida. The final game was televised by ESPNU. That exposure only added to a long list of schools that Curington says have expressed interest.
"North Carolina, Wake Forest, Clemson, Harvard, Illinois, Indiana, Purdue, Stanford, Northwestern," he said. "Some new schools are Michigan State, Florida, UCF, Chattanooga and Florida State."
With 15 months to go until he can first sign a Letter of Intent, don't expect a quick decision from the 6-foot-5 guard.
"I'm pretty much wide open right now," he said.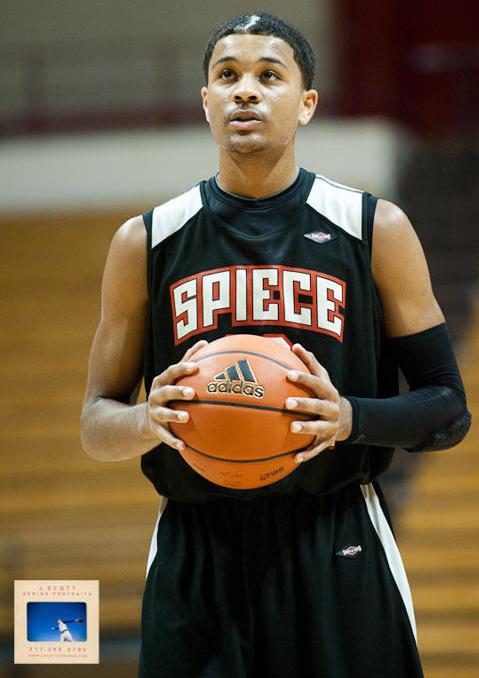 Throughout the spring and summer we've posted updates, scouting reports and video of Indiana's verbal commitments. Today in our new "getting to know" feature, we go off the court with future Hoosier James Blackmon Jr. to introduce you to IU's first commitment in the 2014 class:
Everyone thinks of you as a basketball player, but what do you like to do when you aren't playing basketball?
"I like to hang out with friends and go have fun. Maybe go to a movie with friends or play video games with my brothers."
Do you have a hidden talent or hobby?
"I can play the drums a little bit, I'm good at percussion."
If I grabbed your iPod, what kind of music would I find on it?
"Right now, probably some Tyga, but not many people listen to him. Maybe some Lil Wayne, Rick Ross and Wiz Khalifa probably."
What is your favorite movie ever?
"Stepbrothers."
What's your favorite TV show to watch?
"I really don't watch that much TV, but when I do, I usually watch cartoons with my youngest brother."
If you had to make a team using yourself and any other four people, who would you choose to play with?
"Trey Lyles, Kobe Bryant, Kevin Durant and Monta Ellis."
Would your little brothers come off the bench?
"Yeah, my little brother Jalen and Vijay."
How old are they?
"Jalen is 8, and you can check out his video on YouTube. The other one, Vijay, is 14."
How often do you play basketball with them?
"I play with my 14 year old brother all the time, we just compete. With my little brother I usually just play around with him for fun."
What is the best advice someone has ever given you?
"Do everything like it's your last, and that's from my dad."
Who is your role model or someone your look up to?
"My mom because she's just a hard worker and that's where I get my work ethic from."
(Photo credit: Jamie Owens of J. Scott Sports)