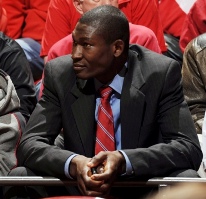 Hoosier Hysteria is on the horizon and it's time for Inside the Hall's player-by-player breakdown of the 2009-2010 Indiana Hoosiers. Today: Bawa Muniru.
Finding a potentially dominant big man at any level of basketball is not an easy thing to do. And even though he'd only been playing organized basketball for roughly five years, that's exactly why high-major programs were lining up to recruit 7-0 Ghana native Bawa Muniru.
Muniru, who is awaiting word from the NCAA on his eligibility for the upcoming season, comes to Bloomington as somewhat of a mystery. He's a solid 260 pounds with a physique that resembles a body builder more than it does a basketball player. At Madison Academy in Alabama, Muniru helped lead his school to three straight state titles before finishing his prep career at Mt. Zion Academy.
The key to Muniru's development will be patience, hard work and persistence. Offensively, he appears to be very raw. The limited film available on him suggests he's most comfortable receiving an entry pass deep enough where he can gather himself and go straight up for a dunk. On defense, he has the tools (a 7-3 wingspan) to become an excellent shot blocker and more importantly, a presence capable of locking down the lane.