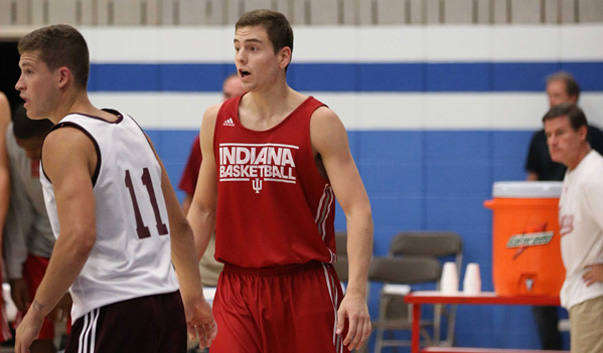 When Indiana coach Tom Crean chose to offer Illinois State transfer Nick Zeisloft a scholarship over the summer, the Hoosiers coach said he saw "a lot on the table left for him." What could have the Hoosiers' coach potentially seen in the Redbirds' seventh-leading scorer that was worthy enough of offering a scholarship with limited spots available?
"I think Nick is going to be a fantastic leader," Crean said during the Montreal trip. "It's going to take him a little while to get used to and get comfortable and all those things with the team, but we're highly confident that he will."
In the Hoosiers' five-game tour of Canada, the 6-foot-4 Zeisloft showed some of the on-court value he has: averaging 8.8 points and hitting 11-of-20 3-point attempts. On a team that simply lacked 3-point shooters, Zeisloft already has showed he can be a solution.
On Monday at the Hoosiers' first practice of situational five-on-five action, Zeisloft's leadership role was already apparent, as well. The former Illinois State captain played a major role in communicating with his teammates, leading huddles and providing intensity on the court.
"It's been a lot of fun," Zeisloft said. "A lot of fun just being very vocal with all of my teammates and them being vocal at me, helping me out if I make a mistake and if they make a mistake I'll help them, as well. Whenever a team has each other's backs, see, that's the most fun about it. That's when the win you most, too, is when you have every teammate's back."