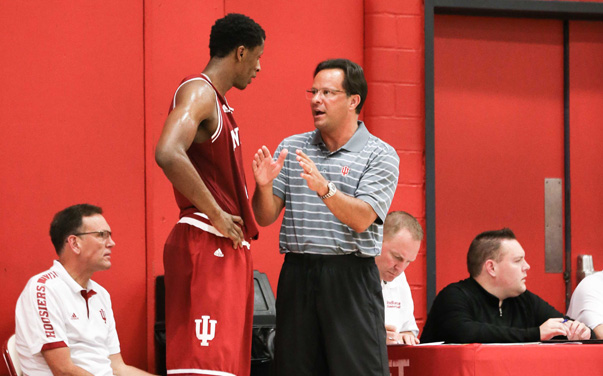 MONTREAL — Thoughts on a 96-69 win over McGill University:
Unlike Sunday afternoon in Saint-Lambert, Quebec and Monday evening in Ottawa, Ontario, Indiana received little in terms of a test as it returned to Montreal for the fourth game of its Canadian tour.
The Hoosiers, who came into Love Competition Hall on the campus of McGill sporting a 2-1 record on their trip, dominated the Redmen, who lacked the athleticism to contain IU's array of perimeter options.
From a team perspective, there was plenty to like in this performance from Indiana. The offense wasn't nearly as good as what we witnessed Monday night against Carleton, but it was still quite solid. The Hoosiers scored 1.10 points per possession with an effective field goal percentage of 54, while limiting the Redmen to .85 points per trip and an eFG percentage of just 43.3.
Indiana also did a solid job grabbing the shots that it did miss as evidenced by its offensive rebounding percentage of 46.1. And while the free throw rate (FTA/FGA) wasn't as high as Tom Crean would like at just 21.3 percent, the Hoosiers did make 15 of their 16 attempts at the stripe.
On the downside of things, Indiana was sloppy with the ball quite often this evening and turned it over 23 times for a turnover percentage of 27.2. Crean said afterward that many of those were unforced and a film session with this young group will show far too many occasions where a ball handler went airborne without anywhere to go. These are the types of mistakes that haunted Indiana a season ago and are exactly the kind of mishaps that can be the difference in tight games when the regular season rolls around.