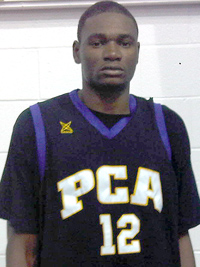 The hardest part about coaching Moses Abraham? Keeping him hydrated.
"He just doesn't stop running," Joe Boncore, Abraham's guardian, told Inside the Hall on Monday night. Abraham, a 6-foot-9 forward from Progressive Christian in Temple Hills, Md., picked up an offer from Indiana last week, personally delivered by Tom Crean.
The Hoosiers joined an impressive list of suitors for the young man, who also has offers from, among others, Georgetown, Tennessee, Texas, UCLA, Connecticut and Kansas State.
Thus far, Boncore said, Abraham has made his greatest impact on the defensive end of the floor using a 7-foot-3 wingspan to block shots and rebound.
"Moses is a big eraser," Boncore said. "He plays above the rim."
Abraham, a Nigerian native who was studying to become a priest before he decided to focus on basketball full-time, possesses a high level of athleticism Boncore said Indiana could use on its front line.
But most of the talk surrounding Abraham focuses on his defensive ability, a big reason why Crean's approach got Abraham's attention.
"He was talking about Moses on the offensive end too," Boncore said. "Coach Crean likes the way he always wants the ball."
Abraham is working on his offensive game with a former trainer of Kevin Durant, also a D.C.-area product. While Boncore said Abraham would never be expected to score quite so prolifically as the former Texas All-American, he said Moses' potential and work ethic create a high ceiling for the forward to reach.