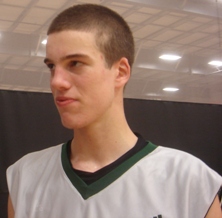 After watching his two older brothers, Miles and Mason, go through the recruiting process, Marshall Plumlee has a pretty good idea of what to expect.
The youngest Plumlee, a 2011 center who attends the Arden Christ School in North Carolina, has impressed coaches this spring and summer with high intensity play. Scout.com recently ranked him the No. 35 prospect nationally in his class.
His Indiana Elite One Orange team attracted 19 coaches this morning at the Kentucky Hoopfest, including Indiana assistant Tim Buckley.
"It's exciting, but we have a saying, 'we just try and put the horse blinders on and go to work.' It's hard to ignore it completely, but we're just here to win, get better and have fun," Plumlee said.
Seven schools — Notre Dame, Indiana, NC State, Minnesota, Virginia, LSU and Florida — have offered the 6-11 junior-to-be. With a size 18 shoe, Plumlee thinks his feet are done growing but he's still hoping to reach the seven-foot mark.