Recruiting Archive
In case you haven't noticed, it's a slow news time, so I figured I'd switch things up and begin profiling some of the 2012 recruits on Indiana's radar. We'll kick it off with Hamilton Southeastern guard Gary Harris, who might be the best prospect in the state in this loaded class.
The Essentials: 6-4, 195 lbs guard for Hamilton Southeastern and D3 Heat
The Schools: Butler, Cincinnati, Illinois, Indiana, IUPUI, Miami (FL), Minnesota, Notre Dame, Ohio State, Vanderbilt, Xavier have all offered scholarships. Florida, Louisville, Marquette, Michigan, Michigan State, Oregon State and West Virginia have shown interest.
The Numbers: 14 points and five rebounds as a sophomore for Hamilton Southeastern, which finished 17-4.
The Scout Says: "Harris is more athletic than we've given credit for and he looked flat out explosive soaring for rebounds and dunks in the open court. He showed the full scoring package on Sunday, scoring off deep jumpers, mid-range pull-ups for drives to the rim." – Scout.com analyst Evan Daniels on Harris' play at the adidas May Classic.
The Highlights (courtesy of UMHoops.com):
Both of these stories broke over the weekend, but in case you missed them, Emmanuel Negedu will transfer to New Mexico and Walter Offutt will transfer to Ohio.
The Associated Press talked to Negedu, who will enroll in classes next month in Albuquerque:
Negedu told The Associated Press he has signed a scholarship offer to play with the Lobos and coach Steve Alford, has been cleared by New Mexico doctors. He is waiting to find out if he will receive an NCAA waiver that will allow him to play in the 2010-11 season.

"I've got to do what I've got to do," the 21-year-old Negedu said. "I want to chase my dreams to play basketball. I want to do what makes me happy, and that's what makes me so happy."
Meanwhile, Offutt chose a full ride at Ohio University, where he'll play for John Groce, over the opportunity to walk-on at Indiana. Groce recruited Offutt as an assistant coach at Ohio State.
Offutt told The Columbus Dispatch that academics played a big role in his decision to leave Wright State:
Offutt enrolled at Wright State, but said he left because the coaching staff misled him into believing the school had a major in sports management.

"I was looking for playing time, but academics played as big a role in my decision to come to Ohio," he said.
Notes and observations from Saturday of the adidas May Classic:
+ You'd be hard pressed to find a better 2013 AAU trio than Basil Smotherman, Devin Davis Jr. and Zak Irvin. All three suit up for the Eric Gordon All-Stars and each player is loaded with potential. Irvin, who hit a game-winning shot Friday night to knock off Collin Hartman and the Indiana Elite Stars, continued his stellar play with 19 points in Cook Hall in a 62-47 win over the Ohio Basketball Club early Saturday morning. Irvin played junior varsity last season at Hamilton Southeastern and will surely join Gary Harris on the varsity next winter. He said the main reason he played JV was his strength and he's working to improve that this summer. Davis Jr., who has a high motor and is a top-level athlete, was equally impressive and will be a sophomore at Warren Central. Kyle Neddenriep of The Indianapolis Star reported on Thursday that IU offered Davis Jr. a scholarship. The 6-5 Smotherman scored just four points in the Saturday morning game I watched, but is already claiming offers from Purdue and Xavier.
+ Twins Brenton and Bryson Scott of Ft. Wayne Northrop, also members of the 2013 class, turned in solid efforts in an early Saturday win, 75-48, over the Michigan Mustangs. Bryson, the better prospect of the two, had 25 points for the Spiece Indy Heat 15's and Brent added 14. Afterwards, Bryson said he wasn't sure whether he'd like to play with his brother in college.
+ Cincinnati Aiken guard Aaron Thomas continues to talk about a heavy interest in Indiana. Thomas said Indiana has offered a scholarship as have DePaul, Xavier and Cincinnati. Kentucky, Louisville, Michigan and Michigan State are also interested. Thomas said he hopes to make a decision by the end of July. (Click here for video.)
+ Austin Etherington did not play Saturday and is expected to miss a few weeks due to a stress fracture in his lower back. He could return for the Bob Gibbons Tournament of Champions, which takes place the final weekend of May.
+ Kenny Kaminski said he plans to make a decision on July 31 and Indiana, Michigan State and Ohio State appear to be the schools to beat for the 6-8 shooter from Medina (OH). Kaminski hopes to visit Wisconsin, Arizona State and Florida before making a decision. (Click here for video.)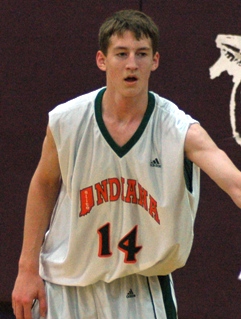 It's already been a busy and successful AAU season for Cody Zeller and Indiana Elite, and May isn't yet half over. Zeller and his teammates — several of whom rank high on IU's wish list for the 2011 and 2012 classes — already notched wins in two tournaments, including a revenge win over St. Louis Gameface at the Fort Wayne Run-N-Slam earlier this month.
Individually, Zeller is also using the summer to refine several parts of his game that he might not so easily improve during high school season.
"In high school, I was always being guarded by two and three guys," Zeller told Inside the Hall. "It gives me a chance to work on post moves and drives and things like that against a different player, a different type of defender."
Of course, there are plenty of Indiana fans who probably wouldn't care if Zeller skipped his last season at Washington High (where he will be defending a state title) and just came to Bloomington in the fall.
Zeller, like his brothers Luke and Tyler before him, is an incredibly appealing prospect, particularly with his special blend of size and ability. Getting a commitment from Zeller would represent a benchmark recruiting win for coach Tom Crean, who has made few bones about focusing on closing Indiana's borders when it comes to in-state high school talent.
That said, Zeller isn't rushing his decision. He said since the end of the season, when several schools underwent coaching changes and staff turnover, he's been getting interest from new schools, including Texas, Wake Forest and Virginia Tech.
For that reason, he said, he's not ready to narrow a list down to five schools and is instead trying to keep an open mind. But that school just a little over a hour northeast of his home in Washington, Ind., still sits well with the 6-foot-10 prospect.
"Now that others have gotten involved, they've picked it up a little bit," Zeller said of IU's interest. "I could definitely see myself playing there."
Release as follows:
IU ADDS CENTER GUY-MARC MICHEL TO 2010 MEN'S BASKETBALL RECRUITING CLASS.

PRONUNCIATION:  (GEE-Marc MEshell)

BLOOMINGTON, Ind. – Indiana University men's basketball head coach Tom Crean has announced that Guy-Marc Michel, a 7-1, 265 lb., center from North Idaho College, has signed a national letter of intent to attend IU and play basketball starting in the fall.  He is the third player to sign with the Hoosiers for next season  joining Victor Oladipo (Upper Marlboro, Maryland/DeMatha Catholic) and Will Sheehey (Stuart, Florida/Sagemont), both of whom are ranked among the top 150 recruits in the country according to Rivals.com.

Michel is a native of Sainte-Marie, Martinique, an island in the Carribean, and has played the last two seasons at North Idaho College for head coach Jared Phay.

This past season as a sophomore, he averaged 7.1 points per game, 7.3 rebounds per game.  He led the Scenic West Athletic Conference (SWAC) in blocked shots and was 16th nationally with his 3.1 blocks per game output.  It marked the second consecutive season that Michel led the conference in blocked shots. He led NIC to the Region 18 championship game and was named to the all-tournament team after the Cardinals finished with a 27-5 overall record.

During his freshman year, he led the conference in blocked shots with 103 and was named All-SWAC Honorable Mention after averaging 8.3 points per game and 6.7 rebounds per game.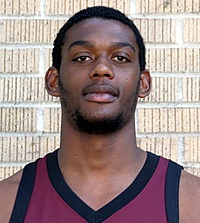 According to a report by Dustin Dopirak of The Herald-Times and The Hoosier Scoop, Indiana has added 7-1 North Idaho College center Guy-Marc Michel to its 2010 recruiting class.
Michel confirmed to The Herald-Times that he signed a Letter of Intent on Friday with the Hoosiers.
"I think it's a good place for me to get playing time," said Marc-Michel, a Martinique native. "It's a great team and it's a school with great history."
Michel joins Victor Oladipo and Will Sheehey in the 2010 class and will have two years of eligibility.
Elsewhere:
+ Kevin Noreen still visiting, but next week (The Hoosier Scoop)
+ Indiana signs big man (Ft. Wayne News Sentinel)
+ IU lands 7-1 junior college center Michel (Indianapolis Star)
Mike Griffith of The Knoxville News Sentinel is reporting that while doctors at IU cleared him to play, school administrators will not clear Emmanuel Negedu to play for the Hoosiers:
Former Tennessee basketball player Emmanuel Negedu said Indiana University doctors cleared him to return to play athletically, but the school's administration declined.

Negedu said he was disappointed with the news, but was not prepared to discuss his situation any further on Thursday.
The report also mentioned that New Mexico, UTEP, Nebraska, UNLV, Arizona and Memphis are showing interest in Negedu and that despite the news from IU, the 6-7 forward still hopes to play next season.
While Negedu would have provided a boost to the IU front court, the potential risk of adding a player who suffered a cardiac arrest less than a year ago was too much to overlook.
As a freshman at Tennessee, Negedu averaged 7.2 minutes, 1.9 rebounds and 1.7 points in 33 games.