Recruiting Archive
Release as follows:
IU ADDS CENTER GUY-MARC MICHEL TO 2010 MEN'S BASKETBALL RECRUITING CLASS.

PRONUNCIATION:  (GEE-Marc MEshell)

BLOOMINGTON, Ind. – Indiana University men's basketball head coach Tom Crean has announced that Guy-Marc Michel, a 7-1, 265 lb., center from North Idaho College, has signed a national letter of intent to attend IU and play basketball starting in the fall.  He is the third player to sign with the Hoosiers for next season  joining Victor Oladipo (Upper Marlboro, Maryland/DeMatha Catholic) and Will Sheehey (Stuart, Florida/Sagemont), both of whom are ranked among the top 150 recruits in the country according to Rivals.com.

Michel is a native of Sainte-Marie, Martinique, an island in the Carribean, and has played the last two seasons at North Idaho College for head coach Jared Phay.

This past season as a sophomore, he averaged 7.1 points per game, 7.3 rebounds per game.  He led the Scenic West Athletic Conference (SWAC) in blocked shots and was 16th nationally with his 3.1 blocks per game output.  It marked the second consecutive season that Michel led the conference in blocked shots. He led NIC to the Region 18 championship game and was named to the all-tournament team after the Cardinals finished with a 27-5 overall record.

During his freshman year, he led the conference in blocked shots with 103 and was named All-SWAC Honorable Mention after averaging 8.3 points per game and 6.7 rebounds per game.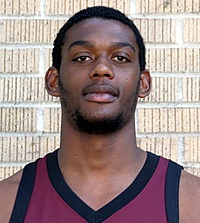 According to a report by Dustin Dopirak of The Herald-Times and The Hoosier Scoop, Indiana has added 7-1 North Idaho College center Guy-Marc Michel to its 2010 recruiting class.
Michel confirmed to The Herald-Times that he signed a Letter of Intent on Friday with the Hoosiers.
"I think it's a good place for me to get playing time," said Marc-Michel, a Martinique native. "It's a great team and it's a school with great history."
Michel joins Victor Oladipo and Will Sheehey in the 2010 class and will have two years of eligibility.
Elsewhere:
+ Kevin Noreen still visiting, but next week (The Hoosier Scoop)
+ Indiana signs big man (Ft. Wayne News Sentinel)
+ IU lands 7-1 junior college center Michel (Indianapolis Star)
Mike Griffith of The Knoxville News Sentinel is reporting that while doctors at IU cleared him to play, school administrators will not clear Emmanuel Negedu to play for the Hoosiers:
Former Tennessee basketball player Emmanuel Negedu said Indiana University doctors cleared him to return to play athletically, but the school's administration declined.

Negedu said he was disappointed with the news, but was not prepared to discuss his situation any further on Thursday.
The report also mentioned that New Mexico, UTEP, Nebraska, UNLV, Arizona and Memphis are showing interest in Negedu and that despite the news from IU, the 6-7 forward still hopes to play next season.
While Negedu would have provided a boost to the IU front court, the potential risk of adding a player who suffered a cardiac arrest less than a year ago was too much to overlook.
As a freshman at Tennessee, Negedu averaged 7.2 minutes, 1.9 rebounds and 1.7 points in 33 games.
The AAU season, still in its infancy, has already been good to Yogi Ferrell.
Playing a year up with an Indiana Elite team that includes fistfuls of top-level Division I talent, Ferrell has slotted in nicely at point guard, giving him the opportunity to showcase his skills in a more natural role. According to his father, Kevin, early returns have been positive.
"It's definitely been beneficial for him," Kevin Ferrell said of the move to the Elite team that includes touted in-state prospects like Cody Zeller, Jeremiah Davis and Austin Etherington. "It allowed him to be able to open up his game a little bit more."
In no small part because of that improvement — and a trip to the state finals with Park Tudor as well — the younger Ferrell has seen his recruitment accelerate in several directions as well. Notre Dame, Ohio State and Michigan have all become serious suitors of the 2012 point guard, according to his father.
One team whose interest still isn't quite measurable yet, however, is Indiana. The Hoosiers have extended a scholarship offer, but Kevin Ferrell said his son hasn't heard that much from the IU camp compared to the aforementioned schools.
"There are other schools who are, and have been, really recruiting Yogi very exclusively," he told Inside the Hall. "I'm not real sure that IU wants Yogi, just right now. I don't know."
Ferrell said that, when his son visited Notre Dame, he met Jack Swarbrick, the athletic director, an example of the (excuse the pun, please) full-court press the Irish have been employing in recruiting his son.
With Austin Etherington committed and just one scholarship remaining (two if you count the over-sign), the construction of the 2011 recruiting class will be a prime storyline to follow this offseason. Let's take a deeper dive into whom Indiana is recruiting for this pivotal class:
– Cody Zeller: IU's need for a versatile big man who can play could be filled by a prospect who resides just 62 miles southwest of Bloomington. The 6-11 Zeller, who led Washington to a 3A state championship with a dominating 20-point, 26-rebound performance, is blossoming into a legitimate five-star prospect. Zeller continues to keep a tight lid on his recruitment and will likely take several official visits in the fall before reaching a decision. Indiana, along with Butler and North Carolina, are considered the schools to beat. If there's a 2011 recruit Indiana can't afford to miss out on, it's the prohibitive favorite for 2011 Mr. Basketball: Cody Zeller.
- Jeremiah Davis: Landing Davis, a powerful 6-3 guard who can play on or off the ball, could actually be better long term for a program trying to establish stability than a one-and-done talent like Marquis Teague. The Muncie Central guard was once considered a Michigan State lean, but Indiana has turned up the heat on Davis and might be the school to beat along with Cincinnati. Davis has talked about rooming with Etherington in college, but is staying the course with his pledge to hold off on a decision until he, in his words, "finds the right fit." If Zeller is priority No. 1 for IU, Davis is 1A.
- Aaron Thomas: Thomas, a 6-5 scorer from Cincinnati, was named the Cincinnati Metro Athletic Conference Player of the Year as a junior as he averaged 22.1 points per game. He's yet to receive a scholarship offer from Indiana, but told us last month that he was "pretty high" on the Hoosiers. West Virginia, Michigan, Cincinnati, Louisville and Ohio State are also recruiting Thomas.
- Nic Moore: The 5-9 point guard from Warsaw has yet to receive an offer from a high major school, but that could change quickly if he performs well come July with Spiece Indy Heat. He can flat out score, but needs to work on getting into the lane and dishing off to complete his game. Indiana continues to evaluate Moore, but whether or not that interest blossoms into an offer remains to be seen.
Indiana could get a major boost in the coming weeks as former Ohio State and Wright State guard Walter Offutt will choose between walking-on in Bloomington or playing for John Groce at Ohio University. Offutt was a four-star recruit in the 2008 class, but played in just 21 games as a freshman at Ohio State and in two games last fall as a sophomore before transferring to Wright State.
He averaged 17.6 points, 4.6 rebounds, 3.4 assists and 2.1 steals as a junior at Warren Central before missing his senior season due to injury. Inside the Hall caught up with Offutt on Wednesday night for a Q & A:
On his decision to leave Wright State:
"One of the main reasons was (Brad) Brownell leaving to go to Clemson. Brownell was a good coach and I thought I could do really well under him. I really liked his system and wanted to do well under him. Obviously, he left and took on a bigger job at Clemson which is respectable. I'm not mad at him for that. I don't know how it will be at Wright State. I don't have the best relationship with Billy Donlon and the way he does things. I just don't see myself playing with them, so I chose to leave."
On how the interest in Indiana began:
"My former AAU team, Indiana Elite, the head of that team, Mark Adams and Mike Barnett, Kory Barnett's Dad, they really like IU's program and really looked after me during the recruiting process. Obviously I was recruited and went to Ohio State and committed there at an early age so I really didn't have a chance to be recruited by many schools. They really had a good relationship with Coach Crean and I've been thinking about IU for a while. Even though I left the first time, I couldn't go inter-conference, but now I have the opportunity to walk-on. I talked to Coach Crean already and actually, it's kind of funny because he wanted to recruit me right after I committed to Ohio State when he was at Marquette. We kind talked about that and that's how it all kind of started."
On his interest in Ohio University:
"John Groce, he was the associate head coach at Ohio State and pretty much recruited me all throughout high school and I've got a very good relationship with him as well. So obviously, that's why Ohio is in the mix. He's showing some interest and has offered me a full ride, so that's where it stands with that."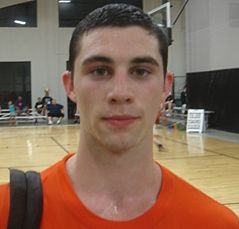 Multiple media outlets are reporting that Bloomington South guard Matt Carlino will graduate high school a year early and attend UCLA next fall as a member of the 2010 class.
Carlino, who originally committed to IU back in August of 2008 following an Elite Camp, re-opened the process on March 25. And now, Carlino will enroll as a Bruin next fall. Here's what he told Dustin Dopirak of The Herald-Times about his decision:
"It has great tradition. It's close to home and they've got a great coach in coach (Ben) Howland. There are great players coming in there and there currently. I just feel like it's a great situation for me to come in and help out."
The Carlino situation is an interesting one with many dynamics. First, he committed very early to Indiana, so it's not surprising that he would end up changing his mind. It happens quite often.
But beyond that, Carlino and his father, Mark, moved from the Phoenix area to Bloomington last spring to get a closer look at the IU program. And now, he'll leave Bloomington South, graduate high school a year early, move across the country again and re-classify to 2010. While it would be easy to question the decision making here, the better route is to wish Carlino the best and move along.