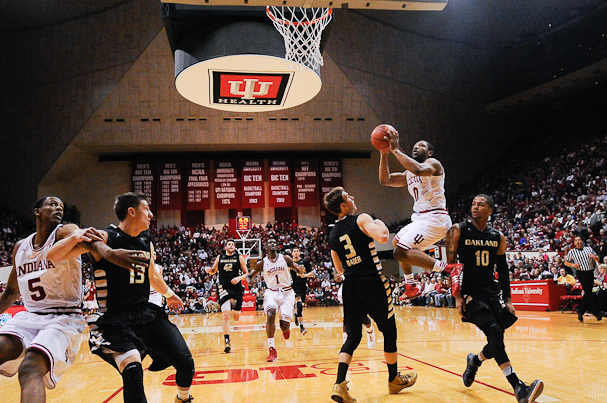 After the game on Tuesday night, Oakland coach Greg Kampe walked back to his team's locker room with a hand to his head.
Moments earlier, the buzzer at Assembly Hall sounded that finalized an 81-54 Indiana (8-2) win over the Golden Grizzlies (2-8). It was a game in which the Hoosiers shot 50 percent from the field, 42.9 percent from beyond the arc and held the Grizzlies to a season low in points off only 32.2 percent shooting.
It's also a game that Kampe already is looking forward to moving past.
"It's Indiana in Assembly Hall," he said after the game. "If they make shots they're going to beat a lot of teams. So I pat Crean on the back, said 'Great job,' and we'll move onto the next one."
But coming into the game, Kampe thought Indiana's shooting ability — or lack thereof — would enable his team to stay in the game. After all, IU was shooting only 28.8 percent from beyond the arc and only 45.6 percent from the field overall. He thought it was the Hoosiers' biggest weakness.
However, in the opening 10 minutes of Tuesday's game, Indiana shot 64.7 percent from the field. By then, the Hoosiers were up, 27-16.
Kampe also thought the game was going to come down to rebounding. By halftime, Indiana would have double the amount of rebounds Oakland would. The Hoosiers were again strong on the offensive boards, rebounding 38.7 percent of their misses in the contest.