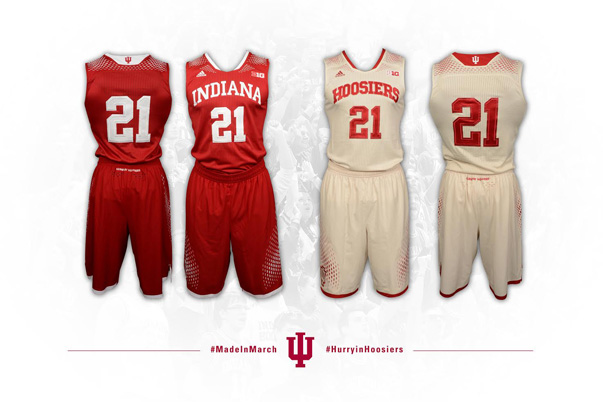 Indiana has teamed up with adidas and will debut new uniforms for Big Ten tournament play beginning next Thursday in Indianapolis.
Here are the full details:
BLOOMINGTON, Ind. – IU Athletics and adidas have partnered to pay tribute to the unique history of IU basketball with special edition "Hurryin' Hoosiers" Made In March basketball uniforms that will be worn at the Big Ten Tournament in Indianapolis on March 13th. These uniforms feature IU's traditional cream and crimson color scheme, with the fabled "Hurryin' Hoosiers" nickname placed on the inside collar of each jersey and on the back of the shorts. These Made in March uniforms will be worn exclusively during the Big Ten Tournament.
"Our players are excited to have something that will be unique to their time at Indiana," said IU Coach Tom Crean. "Great traditions like the candy stripe pants, the script Indiana, and the names not being on the back of their jerseys, are timeless and we are proud to uphold those every day."
The collection was created to provide the Hoosiers with adidas' most advanced uniform system and basketball apparel technology so they can take on the challenges of the intense play of March.