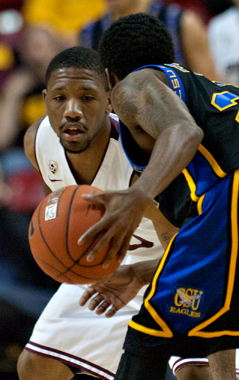 Indiana just sent out a press release confirming the addition of Arizona State transfer Evan Gordon for the 2013-2014 season.
Here's the full release:
BLOOMINGTON, Ind. – Indiana University men's basketball coach Tom Crean has announced that Indianapolis native Evan Gordon, a 6-2, 195 lb., guard who has scored 1,186 points in the first three seasons of his collegiate career, will transfer from Arizona State, enroll in graduate school and play one season with the Hoosiers. He will be eligible to play immediately.
Gordon graduated from ASU last week with a bachelor's degree in Interdisciplinary Studies (Business and Communication). He played one year with the Sun Devils and averaged 10.1 points, 2.9 rebounds, 2.2 assists and 1.3 steals. Four times last season he scored 20 points or better including a career-high 29 points against Sacramento State and a 28-point effort against USC. He started 25 of 35 games for the Sun Devils and had a 76 to 45 assist to turnover ratio in his one season in the PAC-12.
He began his collegiate career during the 2009-10 season at Liberty (Virginia) where he left ranked 26th all-time in career scoring for the Flames with 832 career points. As a sophomore, he finished eighth in the Big South in scoring at 14.4 points and also averaged 2.9 rebounds, 2.2 assists and 1.6 steals. As a freshman, he was a member of the Big South All-Freshman team when he averaged 12.0 points, 4.2 rebounds, 1.8 assists and 1.1 steals.
During his three seasons of college basketball, he has made 173 three pointers and shot 74.2 percent from the free throw line, averaging 95.6 free throw attempts per season.
Gordon attended North Central High School in Indianapolis, was a three-year starter for Coach Doug Mitchell and helped the Panthers to the Indiana 4A title game in 2007. He went on to graduate in 2009 from Hargrave Military Academy in Chatham, Virginia. He helped the Tigers to a 27-2 record and a runner-up finish in the National Prep Showcase Finals. During that year, he averaged 13.0 points and 6.0 assists per game for Coach Kevin Keatts.