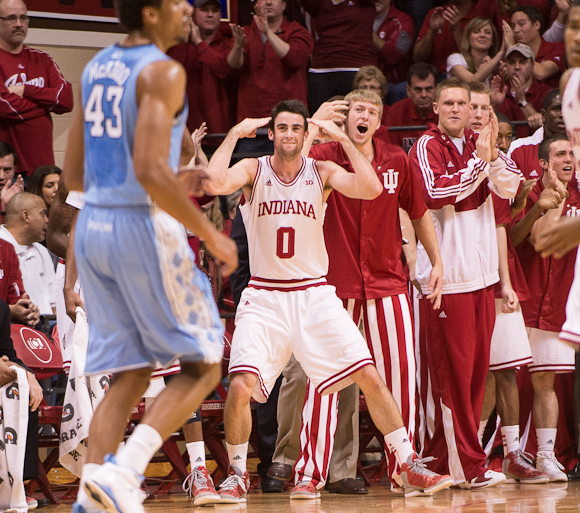 Welcome to "That's A Wrap," our player-by-player recap of the 2012-2013 Indiana Hoosiers. Today: Will Sheehey.
Sheehey (36 games): 9.5 ppg, 3.5 rpg, 1.3 apg, 48.6% FG, 34.6% 3PFG, 65.6% FT in 22.3 minutes per game.
Much was expected from Will Sheehey coming into the season and, for the most part, he delivered. Indiana coach Tom Crean referred to him as a "sixth starter" many times throughout the year, and Sheehey performed like a starter at times. He scored in double figures in 17 games, and posted a season-high 22 points on 9-of-9 shooting against Purdue on Feb. 16.
Sheehey's was the team's energizer bunny off the bench, and he was never afraid to mix it up a bit if he felt it was necessary. It's safe to say he wasn't exactly a fan favorite around the Big Ten, but that's a role Sheehey relished and thrived in.
His mid-range jump shot continued to be a major strength, but he scored the majority of his baskets this season off cuts to the basket. Sheehey is one of the best players in the country at moving without the ball, and he caught defenses sleeping time and again throughout the season.
If there was a disappointing part about Sheehey's season, it had to be his shooting inconsistency and his defense. Sheehey showed an ability to knock down 3-pointers — sometimes in bunches (See: North Carolina) — but he wasn't nearly as consistent from beyond the arc as Crean would have liked.
Before the season, Crean called Sheehey one of the team's best two defenders, putting him in the same category with Victor Oladipo. But Sheehey's defense took a step back from a year ago (in this writer's opinion), especially his on-ball defense. Sheehey struggled to guard quicker guys like Butler Rotnei Clarke, and crafty guys like Temple's Khalif Wyatt.