Notebook: Zeller has a big night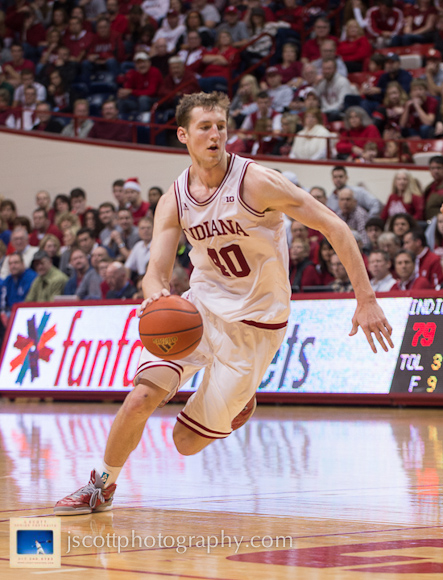 After a week without a game, Cody Zeller's legs were certainly very fresh. He attacked the boards like a madman against Central Connecticut State on Saturday night, and his effort showed on the stat sheet in No. 1 Indiana's 100-69 win.
Zeller finished the game with 19 points and a career-high 19 rebounds, including eight on the offensive end. Zeller's previous high of 13 came in an NCAA Tournament game against Virginia Commonwealth last season.
"I think 19 and 19, that's nothing to sneeze at," Indiana coach Tom Crean said afterward. "That's a big-time night. He was very, very aggressive. He was on the attack. It wasn't like he was given any benefit of the doubt at the rim when it came to the way the game was called in that area. But 19 and 19 is pretty impressive."
Added Central Connecticut State coach Howie Dickenman: "We didn't have any answers for him."
The Hoosiers (9-0) also attacked the glass well as a team, outrebounding the Blue Devils 53-31 in the contest. Junior guard Victor Oladipo, as usual, was everywhere. He finished with 15 points, nine rebounds, five steals, three blocks and two assists in 22 minutes. He also tied his own Indiana record with 20 deflections, set last Saturday against Coppin State, according to Crean.
Oladipo had four big dunks on the night, including a posterization of Central Connecticut State forward Terrell Allen in the first half.
"He got me into the game too," Dickenman said. "Where did you get this guy from? Fantastic athlete. We tried to find weakness with the Hoosiers and we had a tough time."
Hoosiers' defense shuts down Vinales
Much of the talk leading up to Saturday's game was the fact that Central Connecticut State guard Kyle Vinales was the nation's leading scorer at 25.9 points per game.
But Vinales had yet to see an opponent like Indiana. When he did, well, it wasn't all that pretty.
Vinales finished with just seven points on 3-of-15 shooting and four turnovers in 37 minutes. That's 11 points fewer than his previous season-low of 18.
The Hoosiers sent a host of defenders at Vinales, but mostly it was Oladipo and Will Sheehey who were responsible for locking him down.