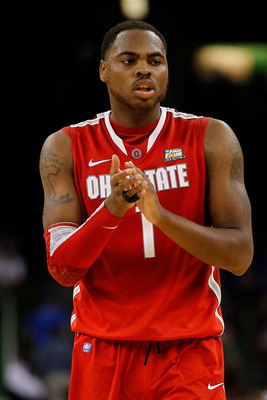 Indiana continues a two-game roadtrip on Sunday afternoon in Columbus as the No. 1 Hoosiers meet No. 10 Ohio State at Value City Arena. The two teams split their series a season ago with Indiana prevailing in Bloomington and Ohio State winning in Columbus.
The game will be broadcast on CBS at 1 p.m. with Kevin Harlan and Clark Kellogg on the call:
Sunday's meeting with Ohio State will be billed as Indiana's most important game of the season thus far and it's hard to argue that assertion given what transpired Thursday night in Champaign. Instead of taking the floor with a 5-0 league record on the road and a one-game lead in the conference standings, the hiccup against Illinois puts this game in the must-win category if Indiana hopes to stay in a favorable position for the Big Ten title. The Hoosiers still have trips to Michigan State and Michigan on the slate and those are the two teams currently tied with IU for first atop of the conference.
PERSONNEL
Ohio State's stalwarts from last season's Final Four team — Jared Sullinger (NBA, Boston Celtics) and William Buford (graduation, Spain) — have moved on, but the Buckeyes are once again in the thick of the Big Ten race. Under Thad Matta, Ohio State has captured at least a piece of the league title for three consecutive seasons and this team, which started in the preseason top five, has performed reasonably well with a 17-5 record overall and a 7-3 mark in league play.
The centerpiece, at least offensively, is 6-foot-7 junior Deshaun Thomas, who is finally the go-to-guy in Columbus. Thomas, a former Mr. Basketball in Indiana, uses 26.7 of Ohio State's possessions and is shooting 50 percent on his twos and 40 percent on his threes. In league play, he's the only Buckeye scoring in double figures at 20.0 points per game. It'll be interesting to see how Indiana chooses to approach Thomas defensively as slowing him down will be pivotal to holding Ohio State down offensively. Victor Oladipo, Will Sheehey and Christian Watford all seem like logical candidates to get a shot at Thomas.
In the backcourt, the Buckeyes defensive prowess is centered heavily around Aaron Craft, Shannon Scott and to a lesser extent, Lenzelle Smith Jr.  Craft has the ability to cause major havoc with his defense and Scott, who's playing close to 18 minutes a game in conference play off the bench, has the 15th best steal rate in the country. Neither guy has played particularly well offensively as Craft shoots just 31 percent on threes and Scott, who paces the club in assist rate, has an effective field goal percentage of just 43.6. Smith is the biggest offensive threat of the trio and it was his hot shooting that caused major problems for Indiana last January in Columbus. At 6-foot-4, Smith is a tough matchup for IU's smaller backcourt and he's the team leader in 3-point field goal percentage (41.5).
Sam Thompson, an ultra athletic sophomore, starts on the wing but his classmate LaQuinton Ross played outstanding in Ohio State's loss at Michigan on Tuesday with 16 points and five rebounds in 22 minutes. Given the Buckeyes offensive struggles, it wouldn't be surprising to see Ross continue to earning more playing time. Like Thomas, he uses a lot of possessions and is efficient. In limited minutes, Ross is shooting close to 40 percent on threes and 50.2 percent on twos.
The void left by Sullinger is being filled by Amir Williams, a former McDonald's All-American and Evan Ravenel, a big body who is the team's most effective defensive rebounder. At 6-foot-11, Williams boasts the 17th-best block rate in the country and is a highly effective offensive rebounder (13.4 OR%). Both Williams and Ravenel can be foul prone at times and Ohio State's frontline depth beyond those two is very thin.
POMEROY PREVIEW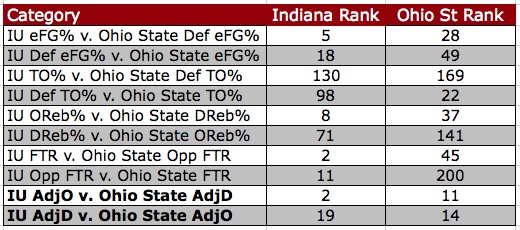 In four of Ohio State's five losses, it has allowed 73 or more points, and given the potential for Indiana's offense to put up major numbers, the Big Ten's second best defense will need to clamp down in order to protect home court. Ohio State is allowing conference opponents to score just .93 points per possession. The Buckeyes are also limiting their fouls in Big Ten play as opponents have a league-worst free throw rate of 22.6. Given their lack of overall depth and the amount of minutes Thomas (37.7) and Craft (35.7) are playing in Big Ten games, playing defense without fouling is critical to Ohio State's success.
Indiana's Achilles heel since the onset of the Big Ten schedule has been turnovers (20.4 turnover rate), and that was never more evident than Thursday night when the Hoosiers shot better than Illinois, got to the foul line at a better rate than the Illini and also won the battle on the glass, and still came up short.
Given the overall length and athleticism of Ohio State's rotation, it shouldn't be surprising that the Buckeyes are allowing only 42.6 percent shooting on twos and are the league's second-best shot blocking team. For Indiana to win Sunday, finishing plays around the basket or at least getting to the foul line at a reasonable rate will be key.
WHAT IT COMES DOWN TO
With its back against the wall, Indiana has played some of its best basketball this season. The Hoosiers responded after a home loss in January to Wisconsin with a five-game winning streak including wins over No. 1 Michigan, No. 13 Michigan State and a pounding of arch rival Purdue on the road. Sunday is another such situation as Indiana fights to stay atop the Big Ten in a venue where it hasn't won since Feb. 10, 2008.
Ken Pomeroy actually likes Indiana to prevail 72-71 with a 52% chance of the Hoosiers coming out on top. If IU can weather the crowd early, muster up a number close to its 1.13 points per possession average in Big Ten play, take care of the ball and not let Thomas go off for 30, this should be an opportunity to steal a win on the road and quickly negate Thursday's loss.