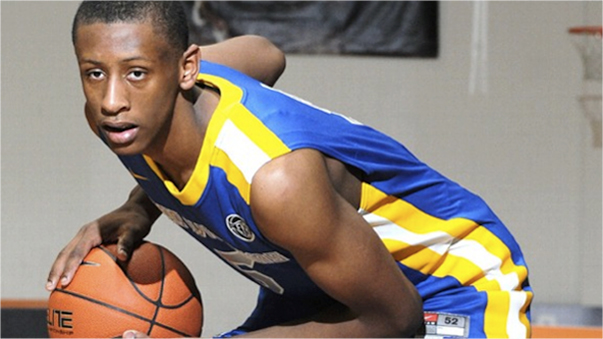 The next chapter
The transfer to Oak Hill has been everything Troy's family had hoped it would be. It's forced him to live on his own for a year before college while learning to deal with the stressful demands of both school and basketball.
"I love it now," Troy says. "Even though living at Oak Hill's a struggle, I like it. You live on campus, you've got times we gotta be at practice. Coach Smith almost treats us like an NBA team. He'll give us a specific time and expect us to be there."
Troy Williams is hardly the first talented player with a bright future to play basketball at Oak Hill. Smith has coached a long list of NBA players, such as Jerry Stackhouse, Carmelo Anthony, Josh Smith, Rajon Rondo and Troy's favorite player, Kevin Durant, just to name a few.
And while Troy still has work to do on his jump shot — he's shooting only 24 percent from beyond the arc this season — he has the potential to be just as good as any of the players that have come before him.
"Athletically, he's as gifted as anybody I've ever had," Smith says. "If he can get his shot to be a little bit more consistent, he could play with just about anybody I've ever coached here. Guys like Stackhouse, Carmelo, Kevin Durant, Stephen Jackson — those guys all shot it a little better than he did, but he does everything else comparable with all of those guys."
Through 24 games this season, Troy is averaging 16 points, 8.6 rebounds, 1.7 steals and 2.4 blocks per game. He's shooting 51.4 percent from the field and 69 percent from the foul line. Troy isn't that little unorthodox kid anymore. He's the best player at one of the nation's top high schools.
"He's our leading scorer, he's our leading rebounder, he's our leading shot blocker," Smith says. "He's our MVP right now."
Now, Troy is getting ready for the next chapter in his life. In just a few months, he'll finish up his coursework at Oak Hill, say goodbye to coach Smith and his family, and move 742 miles to Bloomington, Ind. to start his career as a Hoosier.
While Troy will be playing for his future when he gets to Indiana, there's little chance he will forget about his past. In Troy's eyes, everything he's gone through has been necessary to get him to where he is now.
As for his family, well, they believe Indiana is where Troy belongs.
"I think it was a blessing," Patty says. "It was God-send. Troy is so happy now. That's all I ever wanted."