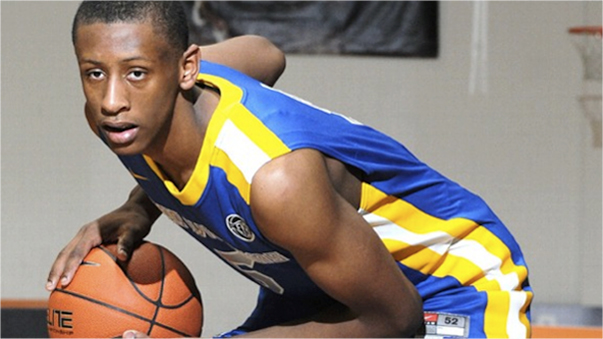 Unorthodox and clumsy to a star in the making
As Troy got older, he started to pay more attention to NBA and college basketball, and he began to enjoy the game more. He closely followed the career of Hampton-born Allen Iverson, a player Troy says he and all his friends so desperately wanted to be like.
"When I went to Phoebus, we played against his high school a lot," Troy says. "My part of Virginia always paid close attention to him and everybody looked up to him. Even when he went to the braids, everybody grew their braids out. They used to cut off one of their socks and wear it as a sleeve and everything."
Even though Troy never went with the braided look — "my mom would never let me," he says — watching Iverson motivated him to work on his game and become an elite player. And when he started having more success on the court, that didn't hurt, either.
When he was 15, Troy played up on Boo's AAU team that included guys like former North Carolina guard Kendall Marshall and Duke guard Andre Dawkins.
"We played against Austin Rivers' team, and that's when I really got my name out there," Troy says. "I had three back-to-back 3s and a steal and a layup."
That's when everything started to change for Troy. In between his freshman and sophomore years, he grew nearly five inches and suddenly jumped onto plenty of recruiting boards. Basketball wasn't just fun and games anymore. It was something that could give Troy a future.
"My athleticism I got out of nowhere," Troy says. "That's when I really started liking basketball and when I realized maybe this is something I want to do all my life."
'He just played around in class'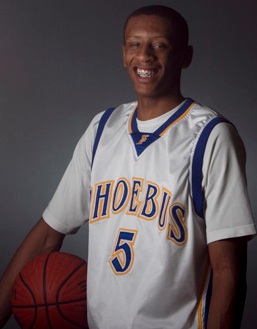 Troy got significantly more playing time his sophomore and junior seasons at Phoebus, and basketball was going well. But he wasn't taking his schoolwork all that seriously, and his family couldn't seem to change his mindset.
"Once you step into the next level, you have to be as competitive in class as you are on the basketball court," Ms. Williams says. "It just didn't seem to be there. He just played around a lot in class."
"He felt making C's were great," Patty says. "He thought a C was good. No, it's not."
Boo, Patty and Ms. Williams got together to talk about ways to get Troy to take his education seriously. Boo proposed Oak Hill, a small private school with little more than 100 kids that would force Troy to move away from home and grow up.
After Patty and Ms. Williams spent some time talking to Oak Hill coach Steve Smith, the decision was made — Troy would transfer for his senior year.
"We saw too many players that left from Phoebus and ended up having to come back within the first year because they couldn't keep up with their grades and basketball," says Patty, who is currently working to earn a degree from an online college.
The decision made sense on multiple levels for Troy, and it looks like a good move now. Patty says Troy was on the 'B' Honor Roll for the first eight weeks and the 'A' Honor Roll for the second eight weeks. Currently, Troy has six A's and one B.
Plus, the transfer gave Troy more national exposure to college coaches and programs, such as Indiana coach Tom Crean, who eventually signed him. But Troy wasn't fond of the decision at the time. He didn't want to leave home.
"I was like the hometown hero in Hampton and at my school," Troy says. "I didn't want to go, I didn't want to leave all my friends and all my family. But after I thought about it and talked to my cousin about it, I started to find out more about the history like who came through here. I just decided to agree to disagree."