With four starters 6'8″ or taller, Georgetown presented matchup issues for the Hoosiers in their 82-72 overtime win last Tuesday at the Barclays Center. As such, Indiana went 2-3 zone for long stretches of the game instead of playing man-to-man defense against  John Thompson III's much larger perimeter players.
While it worked at times, Georgetown was also able to exploit it for a host of 3-pointers, particularly in the first half. The Hoyas went 8-of-14 from distance during the first 20 minutes of action.
A look at four of those first half 3-pointers all coming against Indiana's 2-3 zone in the latest edition of Film Session:
I. Georgetown passes the ball around the perimeter for the first 10-15 seconds of this possession: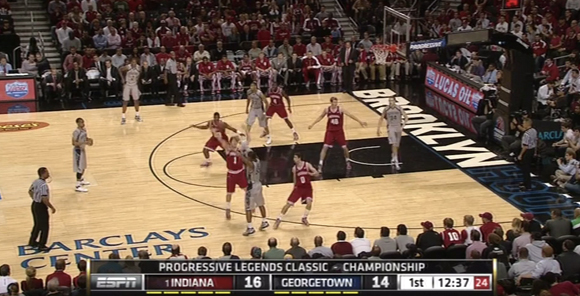 The ball makes it back to Jabril Trawick on the right wing and he dribbles towards Otto Porter, who's instructing him to pass it up top to Markel Starks:
Porter puts a body on Remy Abell as Trawick drew Jordan Hulls to the middle. That leaves Starks with room up top. Trawick passes the ball to him: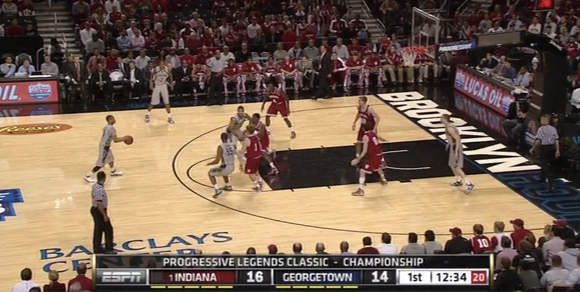 Though he's several feet behind the line, he has space to rise and fire with ease. He connects: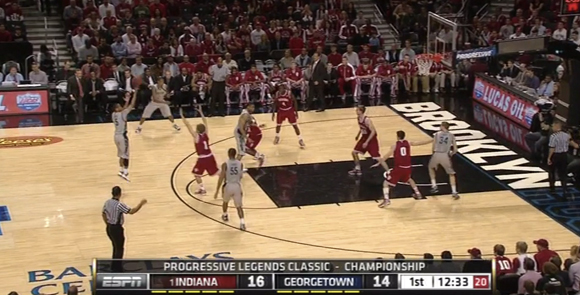 You beat a 2-3 zone by getting the ball into the middle, drawing the defense and finding the open man. This was one way of Georgetown getting that done.
Video:
II.
Again, Georgetown drains the shot clock a bit here by passing around the perimeter. D'Vauntes Smith Rivera looks over the top: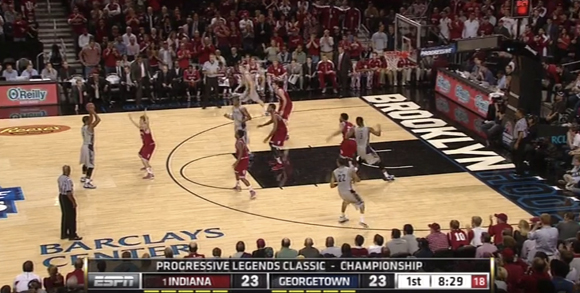 But decides to go over to Porter on the right wing. Porter draws over Yogi Ferrell: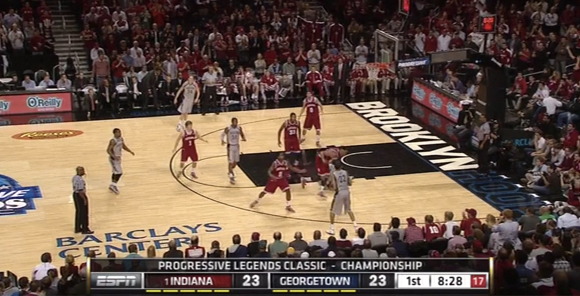 Porter kicks it back up to to Smith-Rivera. He has the option of swinging it around to Nate Lubick on the left wing, but with Hulls under the top of the key he starts to step into a shot: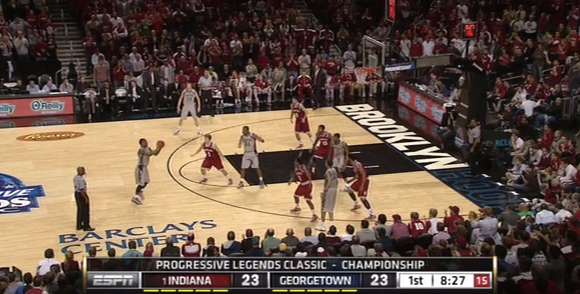 And connects on the trey: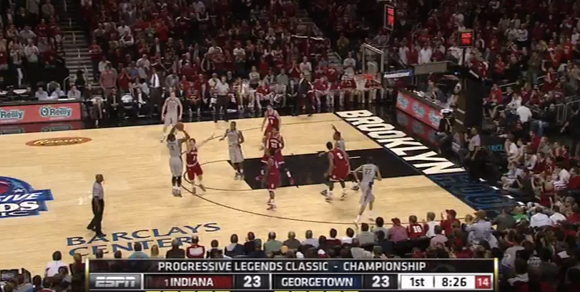 Not bad defense by Hulls per se. But because Georgetown took some of these 3-pointers from a few feet behind the line, there was room here for Smith-Rivera to take the shot. This is what happens when you guard a space/area as opposed to face guarding; the room is there to use.
Video:
III.
This one starts with a fluke. A Starks pass hits the ref: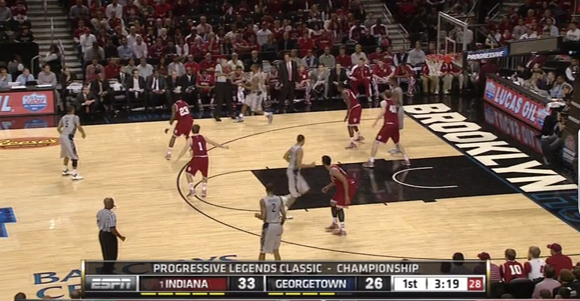 It's eventually swung over to Greg Whittington on the right wing: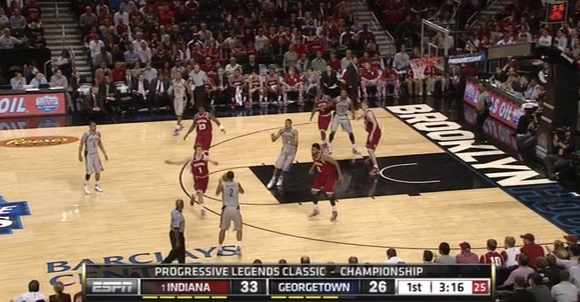 He finds Porter, who was calling for it in the middle: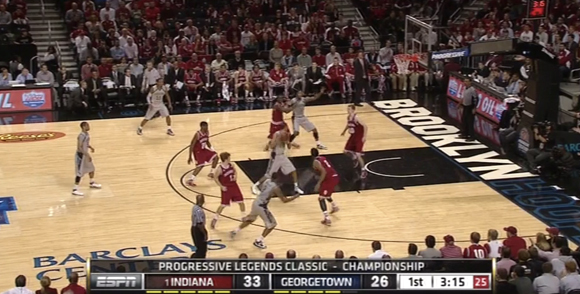 This collapses the zone. All five Hoosiers are at or below the free throw line and three have two feet in the paint: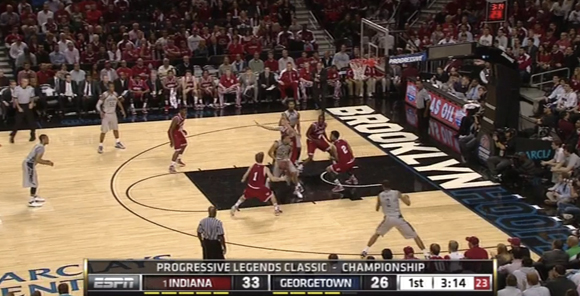 This allows Whittington to slide down to the right corner, receive a pass from Porter and connect: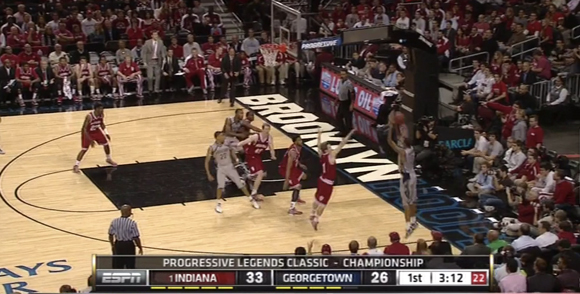 This was a more extreme example of getting the ball into the middle, collapsing the defense and finding the open man.
Video:
IV.
 Porter passes it into Mikael Hopkins, who — you guessed it — is in the middle of Indiana's 2-3 zone: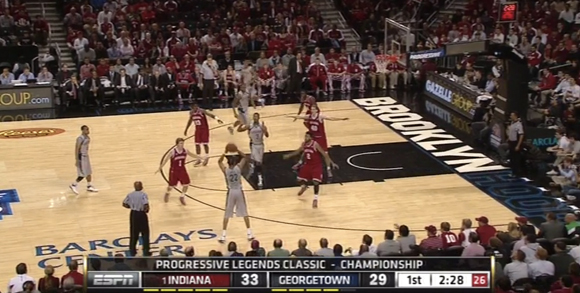 From there it's a turn to his backside as Abell comes over: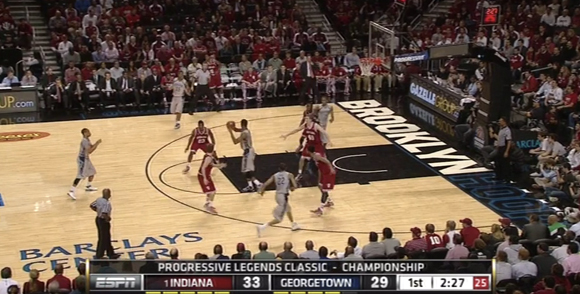 This give Nate Lubick space to catch …: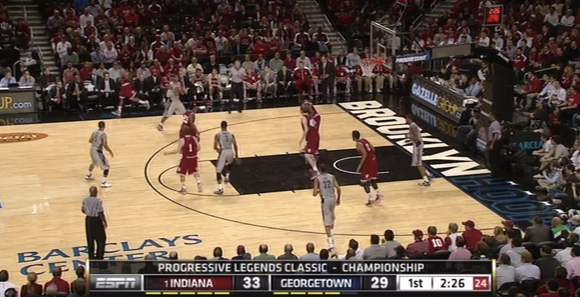 … shoot and hit yet another Georgetown 3-ball: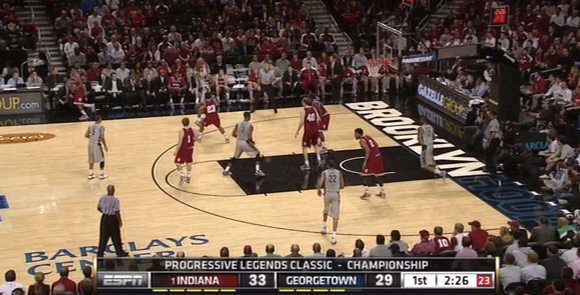 Video: