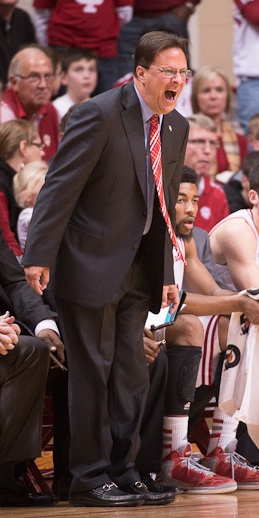 Tom Crean joined Mike Greenburg and Mark Schlereth on "Mike and Mike in the Morning" on ESPN Radio on Wednesday and talked about a variety of topics, including Jim and John Harbaugh, the rebuilding process at Indiana, the Big Handsome nickname for Cody Zeller, upcoming games in the Legends Classic and more.
Here's a transcript of some of what Crean had to say:
Jim and John Harbaugh, you're married to their sister, Joani, what's Thanksgiving like and the family dynamic with those two going at it?
"You know Thanksgiving last year was the game where they went against each other. It's usually not Thanksgiving, it's usually not Christmas, it's usually some day in May or June where everybody gets together. Last year it was actually during Super Bowl week and they were at our house. Jim was there most of the week and John came in for a day, day and half. And that was a lot of fun to have them speak to our team and be at practice, especially after we'd lost a game. Our kids got straight locker room talk from them. It was straight pregame, the night before the game and it really, really helped our season. So I'd much rather have them talking to our team in that sense than trying to spend a holiday. Much more to get out of it."
Give us a sense of what it's been like rebuilding Indiana over the years and how you went from where you were to where you are, No. 1 in the country right now:
"I think it was one of those things there was truly no blueprint for. You just have to go on your experience of how you try to build a program and how you have to have so many people who are involved in it. The one thing that was so incredible here was how supportive the fans, the former players, the administration, everybody was because really they didn't understand what was going on either. But they also knew that this was a big time program and one that had won before and could win again. I think we just tried to stay totally with not trying to skip any steps because we really weren't sure sometimes what the process was going to be or how long it was going to take, but there had to be a system in place. Day by day is really what it's been. We've got a great staff, I know that. And we've had a lot of players come in who have really bought into what it means to play at Indiana and what they've done is they've come in and just built on their work ethic and built a mutual respect that's really good."
You guys get Cody Zeller back. That's gotta be a huge boost in the arm for a guy that's coming back for his sophomore season. How hard is it to coach when you know that at any moment you might just have these guys for one season?
"I don't think it's that hard. What's hard is when you don't have anybody that's old in your program. When we first started here in 2008, we had as many walk-ons and sometimes more walk-ons than we did scholarship players. And we had one young man, Kyle Taber, who's now coaching at Lake Forest in Illinois, he was coming back with 28 career points when he was a senior. So when you don't have leadership of people that have been through it, that have an understand of what it takes, I think that's really hard. I think as long as you've got some people on your team and in your locker room that have been through it, then you can deal with change. Like what John [Calipari] does is amazing because the oldest guys on his team are sophomores, if they are there at all for that. And that becomes a little bit harder. But you've gotta have people that have been through it so they can help those young guys come in and understand that it's not about them, it's about the program."
How does it play in a locker room amongst a bunch of college kids when you have a guy who his nickname is Big Handsome?
"[Laughs]. I don't know about the locker room, but it doesn't play in the film room. And I never refer to him as that on the practice floor. There might be something with 'he needs to rebound better' attached to it, but nothing with the Big Handsome, though it's caught on and it's obviously a big deal to people. I just see a young man that is like the epitome of what you want in the sense of how he conducts himself, how he treats other people, the humbleness and the humility that he has, but yet he has a great confidence about him. I think that's what's most important with him. And he's got a real, real desire to get better. I think anybody would want a kid like this in their locker room next to them because of that humbleness that he has."
On testing yourself against other top teams early in the season [like the Legends Classic]:
"I think it's great. This time of year is so important for so many reasons. It can have NCAA Tournament ramifications based on your winning and your losing. You're going to get a chance to play people that you might not play otherwise and that obviously a lot of times aren't from your region. And it gives you a chance to measure yourself against a lot of different styles, techniques and coaches in different environments. I think it's fantastic. I think our guys are excited about it. We play Sam Houston State, which is the second part of this tournament for us tomorrow night and then we'll leave for New York on Saturday and play a Georgia team that can really score. I know they didn't have a very good game the other night. They played pretty well against Jacksonville and then lost to Youngstown State, but they're athletic, they're really good inside and they've got a big time guard in [Kentavious Caldwell] Pope. It's going to be a challenge for us and certainly Georgetown and UCLA bring a whole other level to the second game that night and then whatever happens Tuesday night."
Full audio below: