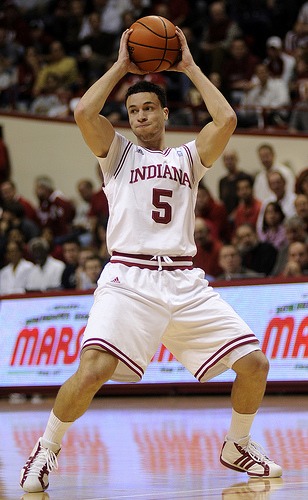 BLOOMINGTON — Transition defense was the hot topic Friday afternoon during media availability at Assembly Hall. Tom Crean called Michigan "the best transition basketball team in the Big Ten," and Jeremiah Rivers said he and his teammates have spent a large portion of the week working to improve in defending against points on the break.
Defending in transition has been a problem for Indiana this season, in large part due to Indiana's struggles with talking and on-court communication. That, in turn, has created problems when shooters come free on the break and aren't picked up, John Shurna's ability to shake loose for open shots Sunday in the Hoosiers' 93-81 loss at Northwestern being a recent example.
Rivers was particularly adamant about the importance of communication against a team that has shot more 3-pointers than any other in the Big Ten:
"Being quiet out there doesn't help at all. I think being quiet out there gives us inconsistency because you don't know if your man has your back, you don't know, if you get beat off the dribble – which will happen in games – if the next player's gonna step out and help you. So I think all week, that's all we've been doing, or one of the main things we've been doing on defense is helping each other on defense. So I think it's been real good."
Michigan will provide an excellent case study into how productive Indiana's week has been. The Wolverines are trigger happy, as are most John Beilein-coached teams, but they've got several pieces that cause problems, foremost among them Darius Morris.
The sophomore is enjoying a breakout season, averaging 15.4 points, 7.3 assists and 3.5 rebounds per game. He has been the conduit through which much of the Wolverines' offense has run, both in scoring and in creating for others.
"Well he's the new Manny Harris in the sense that he attacks, creates for others, he can get to the rim really well and the ball is gonna be in his hands when it's winning time," Crean said. "He does a good job of finding shooters if they're open, like Zach Novak, Stu Douglass, Tim Hardaway Jr., and he's playing like a floor leader for them."
The others for which Morris likes to create include sharpshooters Zach Novak and Stu Douglass, who both shoot north of 38 percent from 3-point range and average 9.2 and 7.4 points per game, respectively. Novak in particular was a player Rivers termed the Wolverines' "x-factor" in terms of scoring, and keeping both him and Morris from finding an early rhythm could go a long way for Indiana.
"I think if we take him out of the game," Rivers said, "I think they'll struggle a little bit more as far as getting their offense going, because I think Morris likes to create for him and for others, so if they get him going, then they can get others going, so I think initially we kind of contain those two we'll be OK."
Crean Audio
Rivers Audio
Crean Video
(Photo credit: James Brosher)